Do you know what Astro Find is?
Astro Find is not a useful tool. It cannot help you find useful information, and it certainly cannot show authentic, trustworthy shopping deals. Although this program is introduced to users as an assistant that can save you some money, the analysts in our research team agree that this program is useless. We identify Astro Find as an advertisement-supported program because it can show the ads served via remote adware servers. Unfortunately, these advertisements are unpredictable, and it is possible that you will encounter unreliable content if you do not delete Astro Find right away. Are you intimidated by the removal of this suspicious adware? Read this report, and you will see that this is not difficult to do.
Users are usually introduced to Astro Find via third-party installers. Although this suspicious adware is promoted at astrofinder.net, the installer is inactive, and it is most likely that it will be attached to software bundles. In the best case scenario, you will download Astro Find along with useless software. Unfortunately, it is also possible that you will download it along with malware that you will need to delete. According to our research, the clones of this advertisement-supported program (e.g., Travel Output, Super Great, Happy Cloud, etc.) might also enter operating systems with malware that require removal. Due to this, if you find adware installed, it is wise to use a scanner you can trust to find the unreliable programs active on your PC. Of course, you must delete every single threat found.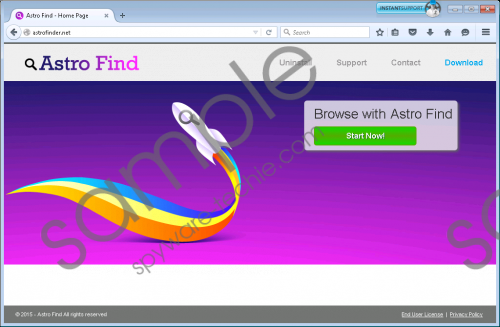 Astro Find screenshot
Scroll down for full removal instructions
The creator of Astro Find is unknown, but it is obvious that this advertisement-supported program belongs to the SuperWeb family. The representation of this adware is identical to the representation of its clones, and we do not believe in coincidences. In most cases, SuperWeb adware showcase ads with tags (e.g., "Provided by Astro Find"), which makes them easier to recognize. As soon as you notice this kind of advertising, chances are that you need to remove adware. Although the ads shown are extremely unpredictable, you have one more reason to remove Astro Find. According to our research, this adware uses cookies to collect data about you, and this data can be shared with virtually anyone.
We strongly recommend removing Astro Find from your operating system. The instructions below should help you delete this adware from Windows, but we cannot guarantee this. After you uninstall the unwanted program, use a malware scanner. This tool will not only help you find leftovers, if they exist, but will also let you know if third-party programs require removal as well. Of course, the best thing to do is install an automated malware remover that will find and delete Astro Find with the infections related.
Delete Astro Find from Windows
Delete from Windows XP
Move to the left of the Taskbar and click the Start menu icon.
Open Control Panel and double-click Add or Remove Programs.
Go to Change or Remove Programs and Remove Astro Find.
Delete from Windows Vista/Windows 7
Click the Windows/Start icon on the Taskbar.
Open Control Panel and click Uninstall a program.
Right-click the application you want to remove and click Uninstall.
Delete from Windows 8/Windows 10
Launch RUN (Win+R) and enter Control Panel. Click OK.
Move to the Programs menu and click Uninstall a program.
Right-click the application you wish to remove and choose Uninstall.
In non-techie terms:
At first, Astro Find might look beneficial, but we can guarantee that this suspicious program requires removal. We strongly recommend deleting this unwanted program using an automated malware remover that will also delete other existing threats and guarantee that your operating system is protected from malware at all times. Do you have questions about the removal of Astro Find? If you do, start a discussion below.