Do you know what Arabyonline.com is?
If you have not chosen Arabyonline.com to be your home page and default search provider yourself, it must have been installed without permission. Search tools which take over the browsers illegally are known as browser hijackers, and they require immediate removal. Illegally running hijackers can install unreliable data-tracking cookies, communicate to unreliable servers, and introduce you to unreliable search results. Unfortunately, not all users decide to delete Arabyonline.com, even if it corrupts the web browsers without permission. Keep in mind that the search provider is not as harmless and beneficial as it may seem to be. Our report reveals how the application truly works.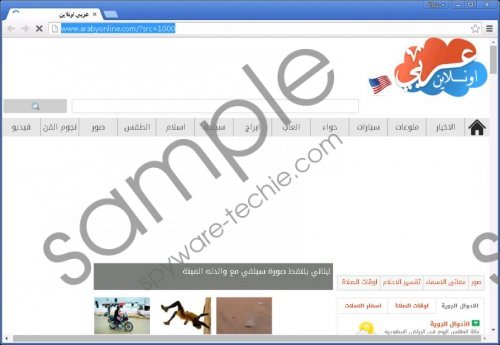 Arabyonline.com screenshot
Scroll down for full removal instructions
Computer users often believe Arabyonline.com to be a beneficial tool, because it is quite interactive. The search provider allows you to access different sites represented via such categories as News, Varieties, Cars, Eve, Games, etc. Additionally, Arabyonline.com displays a weather forecast, presents some news headlines, and displays random advertisements. You should not click on these adverts unless you are familiar with Arabyonline.com politics regarding third-party ads. Spyware-techie.com malware analysts recommend ignoring the ads and removing Arabyonline.com. We believe that no search tool capable of taking over the browsers illegally should be identified as reliable. If you are ready to delete the hijacker, you should also inspect your operating system for other active threats. You may need to remove Vonteera, PC Optimizer, AppEnable, and other suspicious programs that may be bundled with the hijacker by such third-party installers as Vittalia and Installcore.
Arabyonline.com is not the most reliable search provider, even if you have installed it yourself. Of course, you should have no questions about the removal of the search tool if it has been installed illegally. Browser hijackers may be harmful, because they may be controlled by unreliable parties. In order to remove Arabyonline.com successfully, we recommend following a two-step removal process. First, delete the undesirable search tools from the browsers manually. After this, install automatic malware removal software to delete the remaining components of the hijacker. Use this software to delete the remaining infections as well.
Delete Arabyonline.com from browsers
Delete from Internet Explorer:
Launch IE, simultaneously tap Alt+T, and select Manage Add-ons.
Select Search Providers and choose a new default search provider.
Remove the undesirable search provider and click Close.
Simultaneously tap Alt+T again and select Internet Options.
Click the General tab and navigate to the Home Page section.
Overwrite/remove the presented URL, click OK, and restart IE.
Delete from Mozilla Firefox:
Launch Firefox, simultaneously tap Alt+T, and select Options.
Click the General tab, change/remove the Home Page, and click OK.
Navigate to the Firefox search box on the top-right corner.
Click the search provider icon to access a drop-down menu.
Select Manage Search Engines and find Arabyonline.com.
Remove the undesirable search tool, click OK, and restart Firefox.
Delete from Google Chrome:
Launch Chrome, simultaneously tap Alt+F, and select Settings.
Under On Startup select Open a specific page or set of pages and click Set pages.
Locate the URL of the unwanted search tool, overwrite/remove it, click OK.
Under Appearance select Show Home button, click Change, and follow step 3.
Under Search click Manage search engines and choose a preferred search provider.
Remove (click X on the URL) the undesirable search tool, click Done, and restart Chrome.
In non-techie terms:
Arabyonline.com is a search tool targeted at those computer users who speak Arabic. Even though besides presenting extremely suspicious advertisements the search tool is not malicious or useless, you should delete it without any hesitation if it has been installed illegally. Use automatic malware removal tools to remove Arabyonline.com components and delete other running threats. Also use the manual removal instructions presented above to replace Arabyonline.com with a preferred search tool.