Do you know what Aqualious.com is?
Aqualious.com is a browser hijacker that comes from a big family of similar infections. It is an annoying program that modifies your browser settings and, consequently, exposes you to potentially corrupted content. You must have heard the same line multiple times before, but when you encounter a security threat, you need to acknowledge it. And this hijacker is a threat. Thus, you will do yourself a favor if you remove Aqualious.comn from your system immediately. It is not a question of whether you have to terminate this program. It is a question of when you delete it. And the sooner you do it, the better.
As mentioned, the program comes from a group of browser hijackers that include the likes of Binkiland.com, Cassiopesa.com, Joomborio.com, and many others. When we encounter a serial infection, it actually gives us a breather because we already know what to expect of it. Of course, the fact that there are many similar programs out there may mean that the people behind it are really eager in infecting as many users as possible. But since there are many similar applications, you can expect them to be based on the same framework. As a result, the same removal method will most probably apply to all.
Our researchers have found that the domain used by Aqualious.com resides on the same IP address that is also used by the aforementioned Joomborio.com, and also exlee.com. Albeit we have not detected any traffic for this browser hijacker yet, it might be that it is simply lurking, waiting for its time. Your job right now is to make sure that your system is fully protected against any potential threats. The best way to check your system's status is to scan it with a licensed antispyware tool. Only then will you be able to determine the programs you need to delete from your PC.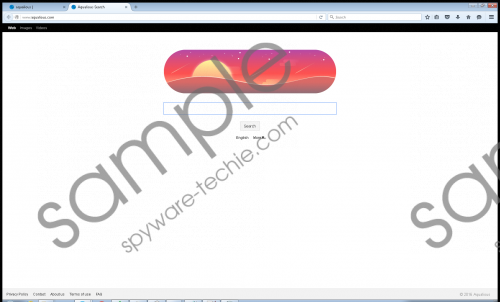 Aqualious.com screenshot
Scroll down for full removal instructions
Another thing about this browser hijacker is that it does not have a direct distribution source. This means that if it manages to slither into your system, it does not come alone. The program should be bundled with additional freeware applications in a third-party installer. These installers are often hosted at third-party file-sharing websites. For example, you must have encountered quite a few of them if you have ever looked for some random freeware application, a codec, or a file. The most important thing about such installers is that they are not malicious in nature, but they could be used to promote and distribute potentially harmful programs.
So what can we do about it? For starters, you should refrain from downloading programs from unfamiliar websites. Choose the official vendor's homepage if you have to have a particular application. Second, if you have initiated the installation process already, be sure to read all the steps carefully. If the setup offers you to go through the Express installation, choose the Custom mode that will allow you to deselect all the unwanted applications. Aqualious.com might as well be among them!
If, by any chance, Aqualious.com still manages to change your default homepage settings, please do not panic. The browser hijacker cannot redirect you to malicious websites unless you allow it to. Rather than browsing the web with this program installed on your PC, you should remove it immediately.
Please follow the instructions below to terminate this infection, and when you are done with it, scan your PC with the SpyHunter free scanner. Once again, this hijacker may be just one of the many unwanted applications currently installed on your PC, so you need to make sure that your computer is safe and clean. For example, there is a good chance that you also have a Chromium browser installed on your PC, so you definitely need to take care of that, too.
Should you need any assistance with the spyware removal, please do not hesitate to leave us a comment below. Also, protect your computer from similar intruders in the future by investing in a legitimate security application. Finally, staying away from suspicious and unfamiliar websites will also help you avoid malicious infections in the future. Your web browsing habits are very important when it comes to your system's security.
How to Remove Aqualious.com
Windows 10 & Windows 8.1
Press Win+R and the Run prompt will open.
Enter Control Panel into the Open box and click OK.
Go to Uninstall a program and remove unwanted apps.
Windows Vista & Windows 7
Open the Start menu and select Control Panel.
Open Uninstall a program and remove the unwanted applications.
Windows XP
Click the Start menu button and navigate to Control Panel.
Double-click Add or remove programs and uninstall all the unwanted apps.
Change the Target Line
Right-click your browser's shortcut.
Click Properties on the drop-down menu.
Select the Shortcut tab and locate the Target line.
Delete everything OUTSIDE of the quotation marks.
Click OK to save changes.
Reset Your Browser Settings
Internet Explorer
Press Alt+T and click Internet options.
Press the Advanced tab and click Reset.
Mark the Delete personal settings option and click Reset.
Press Close.
Mozilla Firefox
Press Alt+H and open Troubleshooting information.
Click Refresh Firefox at the top right of the new tab.
Click Refresh Firefox on the confirmation box.
Press Finish.
Google Chrome
Press Alt+F and click Settings.
Scroll down and select Show advanced settings.
Scroll down again and click Reset Settings.
Press Reset.
In non-techie terms:
Negligent web browsing sometimes results in malware infection. You might have installed Aqualious.com accidentally when you downloaded some freeware application. This dangerous program will collect information about your web browsing habits because it needs to make money. You get no money in return. In fact, you could end up getting infected with severe malware infections, so you need to remove Aqualious.com from your computer immediately.