Do you know what AnyProtect is?
AnyProtect is an application that sends off at least three different antimalware scanners during a full system scan. It means that this program is potentially unwanted, and it could be related to particular computer security issues. In fact, some of its components might also be detected as Trojans, so it is obvious that if it was not your intention to install AnyProtect on your PC, you have to remove it ASAP.
This program is marketed as an application that can help you "protect your memories", but if you have to create a data backup, you should consider some other application. AnyProtect has too many negative reviews to trust it 100%.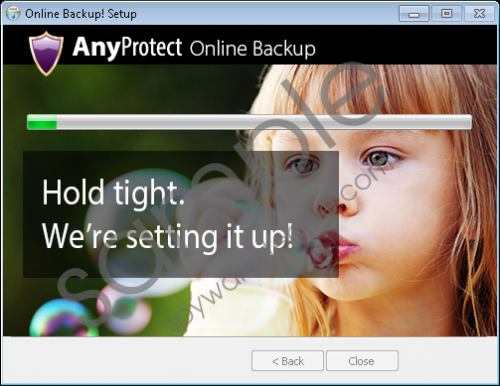 AnyProtect screenshot
Scroll down for full removal instructions
On the outside, AnyProtect looks safe. It has a sleek user interface and even a homepage at anyprotect.com. However, most often if a user complains about such applications, there is a high chance that he or she has not downloaded the program willingly or consciously. Thus, we have to make a conclusion that the homepage does not contribute much to the overall AnyProtect distribution. It is very likely that this application mostly moves around bundled with freeware and other applications published by the same company, including VOPackage and VuuPC. None of these programs is completely reliable so we can assume that nothing good can come out of AnyProtect as well.
Users are urged to install AnyProtect onto their computers, because this program can run a full system scan to "determine if your hard drive has factors that may lead to the sudden loss of your data." It also says, "AnyProtect secures your most important files by keeping them safe in cloud backup." However, how can you be so sure that no one else will have access to your data files on AnyProtect backup?
The problem is that AnyProtect and similar applications are highly vulnerable, and cybercriminals might exploit them to steal information or redirect you to dangerous websites. Take note of the fact that VOPackage that comes with AnyProtect is an adware downloader. Hence, sooner or later your system will be full of adware applications that will spam you with tons of commercial advertisements. It will only compromise your system security further.
To make sure that your PC is safe and clean, you need to uninstall AnyProtect right now, and then get rid of other applications from the same family. There might be an entire palette of potentially unwanted applications on your PC, and you might not even realize that!
Scan your PC with a reliable antispyware tool to find all the unwanted and potentially dangerous applications. Remove them from your system and acquire a legitimate computer security program that will run regular system scans, safeguarding the PC against various threats.
Manual AnyProtect Removal
Windows 8
Slide mouse cursor to the bottom right of your desktop.
When Charm bar appears, click Settings and go to Control Panel.
Open Uninstall a program and remove AnyProtect.
Windows Vista & Windows 7
Open Start menu and click Control Panel.
Go to Uninstall a program and remove AnyProtect.
Windows XP
Click Start menu button and go to Settings.
Open Control panel and select Add or remove programs.
Uninstall AnyProtect.
For any further assistance, you can either refer to the second set of instructions below this description, or leave us a comment. We will reply as soon as possible.
In non-techie terms:
AnyProtect is a program that should help you backup your data online. However, various reports claim that this application cannot be trusted. Therefore, the sooner you get rid of it, the better.