Do you know what Allinchrome.com is?
Allinchrome.com is one of those annoying search tools that can change your browser settings just to make it more difficult for you to remove them. Although we do not identify this search tool as a browser hijacker, we believe that you should delete it considering that it does not provide reliable web search services. Do you think you can trust Allinchrome.com because it represents Google search? Well, this is not entirely true, and it seems that the credentials of Google were employed only to trick computer users. This is a perfect reason to delete Allinchrome.com from your operating system. Unfortunately, there are other reasons to remove this suspicious search tool from your browsers.
The creator of Allinchrome.com, Navigation network co., ltd., has set up this suspicious search tool to take over the homepages on such popular browsers as Google Chrome, Mozilla Firefox, and Internet Explorer. As mentioned previously, it is unlikely that Allinchrome.com will corrupt your browsers as a browser hijacker, which is the reason some computer users do not even think about removing this search tool. Have you installed it along with other programs? Are you sure that these programs are reliable and do not require removal themselves? If you are not sure about this, use a legitimate malware scanner to inspect your Windows operating system, and, if found, delete malware as soon as possible.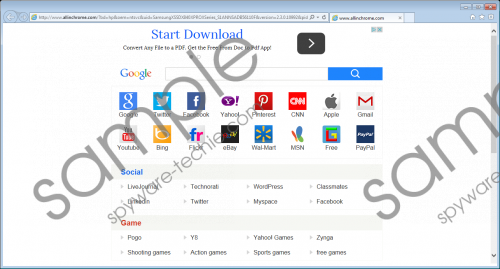 Allinchrome.com screenshot
Scroll down for full removal instructions
Our researchers do not identify Allinchrome.com as a reliable search tool because it uses the so-called Google Custom Search to expose you to sponsored ads and links. The so-called "Ads by Google" are unlikely to be associated with Google at all. In fact, it is most likely that these ads will be injected by the creator of Allinchrome.com and its affiliates. Clicking on these ads might be risky because you do not know where this might lead you to. In the worst case scenario, you could be routed to sites hosting malware. Note that the banner ads shown on Allinchrome.com might promote the installer of suspicious programs as well. For example, you might encounter the installers created by Mindspark Interactive Network, a company that is known for creating suspicious browser extensions.
There is no doubt that Allinchrome.com is a suspicious search tool, primarily because it does not provide any official information about itself. On top of that, this search tool uses Google credentials to trick users into clicking on potentially unreliable sponsored ads. Needless to say, we recommend removing Allinchrome.com, and the sooner you get rid of this search tool the better. Follow the steps below to modify the browser shortcuts so that you could restore the homepage on the infected browser. If you find other threats, use automated malware removal software to eliminate it.
Fix the browser settings
N.B. You will have to repeat these steps with all infected shortcuts.
Right-click the shortcut of the infected browser.
Select Properties and click the Shortcut tab.
Go to Target and remove the URL after chrome.exe", firefox.exe", or iexplore.exe".
Delete Allinchrome.com
Delete from Google Chrome
Launch the browser and tap Alt+F.
Select Settings and go to On Startup.
Select Open a specific page or set of pages and click Set pages.
Change/remove the URL of the unwanted search tool and click OK.
Restart your browser.
Delete from Mozilla Firefox
Launch the browser and tap Alt+T.
Select Options and move to the General menu.
Change/remove the Home Page URL and restart your browser.
Delete from Internet Explorer
Launch the browser and tap Alt+T.
Select Internet Options and click the General tab.
Change/remove the Home Page URL and restart your browser.
In non-techie terms:
The suspicious Allinchrome.com is a search provider that we do not recommend trusting. This search tool shows unreliable search results, and you cannot ignore it despite the fact that it shows links to reliable sites as well. On top of that, Allinchrome.com can change Target settings to block you from removing it from your browsers, which is extremely suspicious, considering that authentic search tools do not act that way. We advise following the manual removal guide above to delete Allinchrome.com and installing a security tool to eliminate leftovers threats and protect your PC.