Do you know what Advanced ScreenSnapshot is?
Advanced ScreenSnapshot is an incredibly suspicious program published by qiusheng xie, an unfamiliar company that does not appear to be linked to any other program. It is quite possible that this company was set up only to represent the suspicious PUP (potentially unwanted program). In fact, the people behind this company could be associated with other companies distributing suspicious, unreliable software. Of course, we are not saying that you should not trust all unfamiliar companies, but you certainly need to be cautious. Schemers successfully utilize the credentials of reputable companies as well, which means that you need to be careful when installing software in general. If you are not cautious, you might let in potentially unwanted programs capable of infiltrating other malicious threats. Unfortunately, this is the main reason why you need to delete Advanced ScreenSnapshot as well. This PUP was found to contain a security backdoor that could be used to install other threats, and this must be taken seriously.
According to our research, Advanced ScreenSnapshot usually enters operating systems silently. Although it is possible that you will download this program yourself, it is much more likely that it will slither in without your notice, which immediately puts a red flag up. Unfortunately, many other threats could enter your operating system bundled with this PUP, and they might be much more irritating or malicious. The PUP itself is not a malicious threat, and it might seem undeserving of your attention. In reality, a file called "ScreenShotServ.exe" can silently install malicious infections, and that is why you must look at Advanced ScreenSnapshot seriously. Although this program is meant to help you capture screens, there is more than meets the eye. The longer you ignore this unreliable program, the more chances it will have to infiltrate other infections and undesirable software. If you let them in, of course, you will need to delete them, and, depending on what kind of software is downloaded, you might face some obstacles.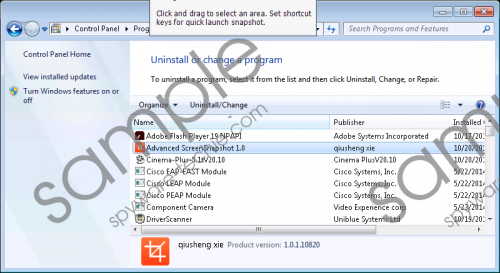 Advanced ScreenSnapshot screenshot
Scroll down for full removal instructions
Once installed, Advanced ScreenSnapshot creates a folder called "ScreenSnapshotTool" in the Program Files directory. Additionally, this PUP creates registry keys to ensure that it runs smoothly. While the folder containing the files (e.g., Report.exe, CrashUL.exe, ScreenSnapshot.exe, etc.) of this PUP is not difficult to identify, the registry keys have random names, and it will not be so easy to delete them manually. The good news is that you do not actually need to tackle this potentially unwanted program one component at a time. Uninstalling this PUP is just as effective, and we have prepared an easy-to-follow guide below. Although this method will help you eliminate the potentially unwanted program, it might be useless when it comes to other active threats. Adware, hijackers, tracking cookies, Trojans, and other kinds of unreliable software could have been downloaded onto your PC, and you might have to approach every single one of these threats in a different manner. If you cannot eliminate all threats yourself, utilize an automated malware remover you can trust.
Delete Advanced ScreenSnapshot
Windows 10/Windows 8.1/Windows 8
Tap Win+R keys together to launch RUN.
Enter Control Panel into the dialog box and move to Uninstall a program.
Right-click the program you wish to eliminate and select Uninstall.
Windows 7/Windows Vista
Navigate to the left of the Taskbar and click the Windows/Start icon.
Open the Control Panel menu and move to Uninstall a program.
Locate the undesirable program, right-click it, and select Uninstall.
Windows XP
Open the Start menu from the left of the Taskbar and click Control Panel.
Double-click Add or Remove Programs.
Find the undesirable program, click it once, and select Remove.
N.B. Afterward, employ a reliable malware scanner to inspect your Windows operating system and identify the remaining threats. Hopefully, you do not need to worry about any leftovers; however, if they exist, you need to make sure they are eliminated as soon as possible. If you are having trouble finding the right tool for you, start a discussion below and we will assist you.
In non-techie terms:
You need to remove Advanced ScreenSnapshot from your operating system because this potentially unwanted program could download malware onto your PC without your knowledge. In fact, the PUP itself could slither in without your notice, which makes it obvious that this program is unreliable. We are sure that you can find a better tool to help you capture screens without imposing security risks. It is very important to choose the right removal option. If you go with the manual removal, you have to know every single threat active on your PC, and you have to know how to eliminate them. Of course, not all computer users are experienced and capable of eliminating malware manually, which is why we advise using anti-malware software capable of catching and removing all active threats automatically.