Do you know what Ads by MarkKit pop-ups are?
If you are anxious about pop-up advertisements bearing the label Ads by MarkKit, it means that your Internet browsers are affected by an adware program called MarkKit, also spelled Mark-Kit. MarkKit is a free browser add-on which delivers you a set of functions in order to enhance your online experience. The browser add-on enables you to highlight text, save it, share it on social networking websites, modify the highlighted text, and browse Google, Wikipedia, and Bing. In return for the functionality that is added to your browsers, including Internet Explorer Mozilla Firefox, you have to put up with various pop-ups, including those with the label Ads by MarkKit.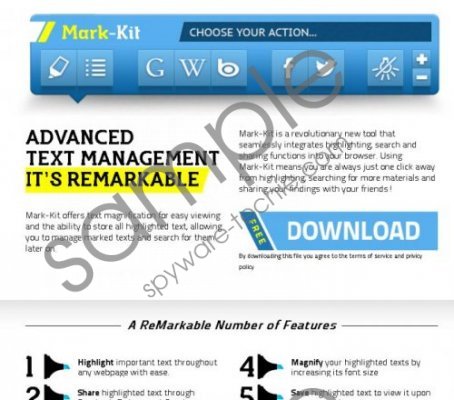 Ads by MarkKit screenshot
Scroll down for full removal instructions
Ads by MarkKit pop-ups are not owned by the developers of the browser add-on. MarkKit is an ad-supported program; hence, it is categorized as adware. All the advertisements that you are provided belong to some third-party websites, which are not governed by MarkKit. The developers of the adware program are not responsible for the content of Ads by MarkKit pop-ups. You may find pop-ups offering you a chance to scan the computer, update a media player or Internet browser, play online games, etc. If you are already familiar with Ads by MarkKit pop-ups, you are probably aware of the fact that the majority of Markkit advertisements are not related to your search terms. We recommend that you remove all those advertisements and remove MarkKit from the computer as soon as you can.
Do not delay the removal of MarkKit because this adware program monitors your browsing behavior so that that the information collected can be used for marketing or advertising. The adware program records your search terms, clicks, browsing history, browser settings, and some other details. The sponsors of the Markkit browser add-on may also collect similar information, so, if you want to protect your privacy and avoid questionable pop-ups, you should take immediate action to rid the browsers of Ads by Markkit pop-ups.
As regards the removal of the adware program, we recommend that you rely on a reputable spyware removal tool. You can try eliminating the adware program manually but you want to be sure that all the files related to MarkKit are deleted. Our recommended spyware and malware prevention tool can easily remove Markkit and safeguard the system against Trojan horses, rogue anti-virus programs, browser hijackers, and many other computer threats.
In case you are determined to get rid of Ads by MarkKit pop-ups manually, use the following removal guide and scan the computer afterwards.
How to get rid of the Ads by MarkKit pop-ups
Windows Vista and Windows 7
Open the Start menu.
Click Control Panel.
Select Uninstall a program.
Remove MarkKit.
Windows XP
Click Start.
Select Control Panel.
Click Add or Remove Programs.
Uninstall the adware program.
Windows 8
Press the Windows key to get to the Start menu.
Start typing control panel.
Click the Control Panel icon.
Select Uninstall a program and remove MarkKit.
In non-techie terms:
Ads by MarkKit is the label of various advertisements displayed by MarkKit. The adware program is promoted at mark-kit.co and has some so-called clones, including Remarkit and Bestmarkit. If you want to have MarkKit removed, implement a reputable spyware removal tool, which you can do using the instructions provided below.