Do you know what Ads by Daugava are?
Ads by Daugava are very annoying coupons and offers displayed by an adware program called Daugava. These advertisements serve only one purpose: To make money for the creators of this adware. How do they make money out of it? The more ads you click on, the more traffic is generated for third-party websites, and the more the creators get paid. However, our malware specialists have tested this adware in our internal lab and have found that Ads by Daugava are identical to the advertisements shown by Jabuticaba and Shopperz, and cannot be trusted. In fact, this adware is an actual clone of these previously mentioned applications. There are certain risks that you take if you leave Ads by Daugava keep showing up. If you want to keep your system intact and safe, we recommend removing Ads by Daugava ASAP.
Most users get infected with Daugava adware via free software package installers. The truth is that most of the time the users themselves download these infections. They want to download a free program, but what most of them do not know is that the installer may be packed with a few unwanted applications and malware programs as well. Keep in mind that you can prevent these infections from entering your system, if you pay attention to the steps of the installation wizard. There are usually checkboxes to untick if you do not want certain components or additional programs to be installed. Sometimes these are only revealed for you if you choose the Custom installation method. Reading the license agreement may also help you to figure out what you are about to install. Unfortunately, users usually rush to get it over with and infect their machines with a bunch of malware programs. That is why it is necessary to scan your system for threats after deleting Ads by Daugava so that you can act before it is too late.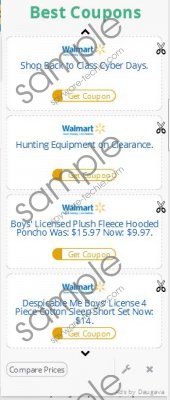 Ads by Daugava screenshot
Scroll down for full removal instructions
This adware behaves exactly like the other clones we have mentioned. It floods your computer screen with coupons and offers which may be totally irrelevant. Ads by Daugava can ruin your shopping experience with its constant flow of pop-ups. What is worse, the advertisements that are supposed to be best deals might lead to unsafe websites controlled by schemers. The third parties and their ads are not reviewed by the creators of this adware, which means that you might be exposed to unreliable content if you click on these offers. We hope that you realize that it is not safe to keep such a potentially harmful program on your computer, and you should remove it.
After the cold shower, maybe it is time for some sunshine. So here is how you can finally get rid of Ads by Daugava. Even though that is quite a simple task, we have included the necessary steps below in order to assist you. If you are not a fan of manual removal, we can offer you an alternative. As a matter of fact, the automated option is far more effective when it comes to fighting multiple threats. Keep in mind that if you have this adware on your system, there is a chance that other infections are there, too. If you do not address that issue, you may have a compromised system before long. That is why we recommend that you download and install a reliable antimalware program and let it take over this cumbersome and difficult task from you. An up-to-date security tool can automatically eliminate all known malware infections and safeguard your system from them.
Ads by Daugava Removal from Windows
Windows 8 & Windows 8.1
Press Win+X and select Control Panel.
Access Uninstall a program.
Select the undesirable application and click Uninstall.
Windows Vista & Windows 7
Click on the Windows button on the Taskbar and access Control Panel.
Click Uninstall a program.
Select the undesirable program and click Uninstall.
Windows XP
Click Start and navigate to Control Panel.
Click Add or Remove Programs.
Select the unwanted application and click Remove.
In non-techie terms:
Ads by Daugava are potentially dangerous commercial offers and coupons displayed by an adware application called Daugava. Clicking on its pop-up ads might redirect you to malicious websites. The presence of this adware is a risk to your system's security. Removing Ads by Daugava can be done manually as described above, but this way you will not know if your computer has any other infection. Therefore, we advise you to use a reputable malware remover so that you can automatically fix all the problems your system may still be having.