Do you know what Ad Blockerr is?
Ad Blockerr seems to be a very beneficial program because it promises to block various pop-ups, adware URLS, and malicious websites. In addition, it says that it can protect your private information. Our specialists say that this program can really block some pop-ups; however, it is not clear whether it will do other useful activities. Actually, you should not expect much from Ad Blockerr because it is known to be an advertising-supported application (adware). In other words, it can show advertisements itself even if it says that it will block ads for you. We believe that there is no point in keeping suspicious programs installed, so we suggest that you erase Ad Blockerr as soon as possible. You will find answers to all your questions regarding the removal of this adware in this article.
The trial version of Ad Blockerr is available for 15 days, which means that you will have to upgrade it in order to use it in the future. We believe that there are other more reliable applications available, so we suggest that you invest in one of them instead. Actually, it would be even better to remove Ad Blockerr from the system. It is especially true if you see commercial advertisements on your screen. It is very important to stop all those ads from appearing because they can cause harm to your system. They can do that by redirecting you to the websites that contain malicious software. Our specialists say that it is also very likely that Ad Blockerr will collect information about your online activities. If you do not like Ad Blockerr for any reason, you should delete it as soon as possible. Continue reading to find out how to do that.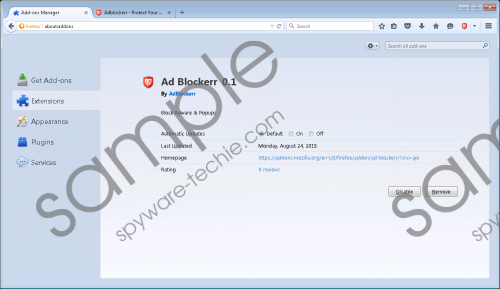 Ad Blockerr screenshot
Scroll down for full removal instructions
There is a huge possibility that Ad Blockerr has entered your system together with other unreliable programs. Yes, this adware is distributed via malicious installers too, which means that it might be installed on your system even if you have not done that yourself. Unfortunately, many other undesirable programs can slither onto your computer without your permission too, so you should acquire an antimalware tool and keep it enabled. It is also very important to check whether the application is really trustworthy before you install it on your system.
Unfortunately, adware can attract other undesirable programs to your computer, so it is advisable to delete it as soon as possible. It seems that you will be able to get rid of it if you remove its extension. We have prepared the instructions that will show you how to do that (see below).
Remove Ad Blockerr
Mozilla Firefox
Launch your browser.
Simultaneously tap Ctrl+Shift+A.
Select Extensions.
Find the suspicious extension.
Remove it.
In non-techie terms:
If our instructions do not help you to get rid of Ad Blockerr or you simply want to make sure that your system is completely clean, you should definitely scan it with an automatic scanner, such as SpyHunter. There are plenty of other tools available on the web, but you should know that not all of them are trustworthy.