Do you know what 7searches.org is?
7searches.org is a search engine that can be set as your default home page and search provider on Internet Explorer, Google Chrome, and Mozilla Firefox. The search engine is promoted by a browser hijacker, which is believed to be related to the Websearch family. If you do not remember changing the home page to 7searches.org, that implies that you have recently browsed some unreliable websites and/or downloaded freeware. In order to prevent unauthorized changes on the operating system, it is essential to review the information provided by the installation wizards; otherwise, soon you may decide to remove a bunch of unwanted programs. However, it is not enough to read every single page of the installation wizard. It is also important to keep the operating system protected.
We advise you against using the search engine 7searches.org because this search provider is not capable of providing a big number of search results. Moreover, instead of providing you with relevant search hits, its shows links that direct you to websites that have nothing in common with the search query term. Upon clicking on the link provided by 7searches.org, you may be taken to a malicious website, and you should bear in mind that 7searches.org is not liable for your interaction with those third-party websites. If you submit your information to third parties, you do it at your own risk, because 7searches.org is not liable for the activities of those third parties.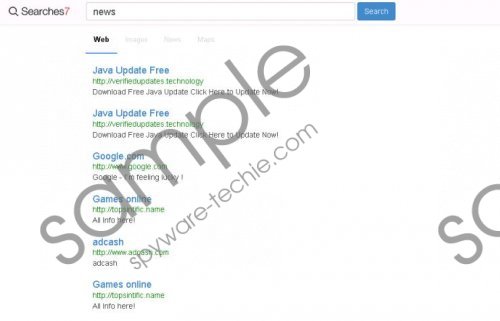 7searches.org screenshot
Scroll down for full removal instructions
Like other search engines, 7searches.org sends some cookies to your computer in order to collect information on how you search the Internet. Moreover, the search engine 7searches.org uses Google Analytics to gather information about page visits.
It is also important to note that 7searches.org features links to several pages of the website funutilities.com. Through the search engine 7searches.org, you can access games, screensavers, and wallpapers available at funutilities.com. This website offers Internet users several services, including Facebook wallpaper, ecards, mouse cursors, etc. If you want to avoid adverse consequences, you should avoid interacting with websites such as funutilities.com.
If you have already tried 7searches.org and have no intention of keeping it on your browsers any longer, take action to remove it. Below you will find our step-by-step instructions that should help you reset the settings of the browsers and remove 7searches.org. But we recommend that you rely on a reputable security program. If you want to find out what changes are made on the operating system and what unreliable programs are running in the background, implement our recommended security program SpyHunter. This real-time security program fights off browser hijackers, adware programs, Trojan horses, rogue anti-virus programs, and many other threats so that you can safely browse the Internet.
How to remove 7searches.org
Internet Explorer
Press Alt+T and click Internet Options.
Open the Advanced tab.
Click the Reset button.
Select the check box and click Reset.
Click Close.
Mozilla Firefox
Press Alt+H.
Click Troubleshooting Information.
Click Reset Firefox.
To continue, click the Reset Firefox button when another window opens.
Click Finish.
Google Chrome
Press Alt+F.
Select the Settings option.
Click Show advanced settings (at the bottom of the browser window).
Under the heading Reset settings, click Reset Settings.
Click Reset in the dialog box that pops up.
In non-techie terms:
If you want to be sure that 7searches.org has just been removed from your browsers and no malicious files are present on the computer, install our recommended tool. The instructions provided below will help you install the program, but you can always contact our team if you have any questions concerning the removal of 7searches.org or installation of SpyHunter.