Do you know what 1stBrowser is?
1stBrowser is a web browser that has recently caught the attention of our analysts. Based on what we have found, we suggest that you remove this program. Our analysts have put 1stBrowser into the category of potentially unwanted programs. This means that the application is not malicious, and you can continue using it if you want to. But it has some drawbacks that make it undesirable. This article is dedicated to dealing with various issues surrounding this web browser.
The browser is up for download at 1stbrowser.com. But it can also be found bundled with other software, especially adware-type programs that you should always try to avoid and remove them when infected. But let us get back to 1stBrowser. The website and software bundling are the two known means of disseminating it. Those of you who have not tried this browser should be surprised to learn that it is identical to the Google Chrome web browser. Now this is nothing new since we have seen plenty of modified browsers based on one particular one. 1stBrowser uses Cromium as its basis, which is why it looks identical to Chrome. This is no scam; the browser is legitimate, but there is really no reason not to remove it and install Chrome instead.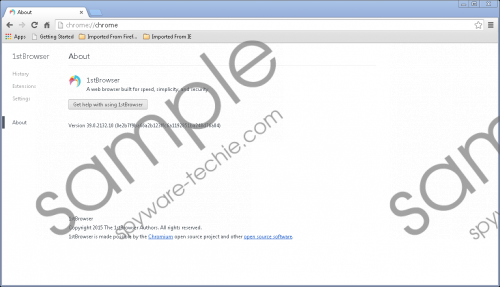 1stBrowser screenshot
Scroll down for full removal instructions
In any case, if you had Chrome before, and you accidentally or purposefully installed 1stBrowser, it will automatically be set as the default browser of your computer. It is really annoying that the user does not have a say in the matter. Inattentive users might even get confused and start using 1stBrowser thinking it was Chrome. The main difference that sets them apart is the fact that 1stBrowser has been modified and is set to track your surfing habits in order to present you with user-specific content. It is clear that the developers are in the business of making money via commercial advertisements, and 1stBrowser is merely a clone of Chrome, just with more ads. Thus, we suggest that you remove 1stBrowser and install Chrome or any other reliable browser.
The browser has been developed by a company called SIEN S.A., which is a known adware developer. You can check other products developed by this company at its website at Sien.com. Apart from developing 1stBrowser, the company has also released applications, such as Yappyz, Iminent, and a few others. Note that the aforementioned applications are considered to be adware, so you should remove them.
Our analysis has revealed that 1stBrowser is a pointless application. It looks exactly like Google Chrome and has some considerable flaws. The fact that it collects information about the user, which is then used for marketing purposes in order to display custom ads, make this application rather intrusive. Therefore, you can remove 1stBrowser and get another browser. Please follow our instructions provided below if you want to remove the application.
How to remove 1stBrowser
Windows 8/8.1
Open the Sidebar by moving the mouse cursor to the bottom right corner of the screen.
Click Settings, select Control Panel, and open Programs and Features.
Locate 1stBrowser, right-click on it. And click Uninstall.
Windows 7/Vista
Open the Start menu, click Control Panel, and select Uninstall a program.
Locate 1stBrowser and right-click on it.
Click Uninstall.
Windows XP
Open the Start menu and click Control Panel.
Open Add or Remove Programs.
Locate 1stBrowser and click Uninstall.
In non-techie terms:
1stBrowser is a potentially unwanted application that looks exactly like Google Chrome, except that it has some major drawbacks that Chrome does not. 1stBrowser has been developed by an adware developer, which made sure that this browser collects information about the users' browsing habits and displays annoying commercial advertisements. Therefore, it is advisable that you remove this application.