Do you know what 123HD-Ready is?
Virtual security researchers identify 123HD-Ready as an advertisement supported program because this application often travels bundled with adware. This is why after installing it, you may face an avalanche of irritating, continuously reappearing advertisements, offers, deals, coupons, surveys, prize giveaways and other random suggestions. Since not all of these offers are trustworthy, we recommend that you delete 123HD-Ready and other advertisement supported programs which may exist on the operating system. Needless to say, if you are currently thinking about installing this tool, we strongly advise you against it, especially if authentic security tools have not been installed onto the computer.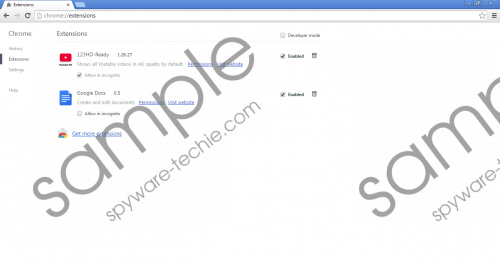 123HD-Ready screenshot
Scroll down for full removal instructions
Do you believe that the services provided by 123HD-Ready, Pus-HD, HQ-Video and other similar programs are authentic and legitimate? These applications are not related to YouTube, and you could be breaching the laws of copyright infringement by using them. Of course, it is most important to avoid 123HD-Ready in order to ensure that your virtual security is not exposed to cyber criminals. It has been revealed that the program may travel bundled with Fortunitas, NewPlayer, Conduit Search Protect, and other suspicious programs, especially if you trust domaIQ installers. These programs may present online advertisements, and in some cases they could be presented by schemers. Therefore, even though 123HD-Ready is not considered to be a malicious program, trusting it could be dangerous.
Whether you have downloaded the suspicious advertisement supported program from 123hd-ready.com or it was installed bundled with other software, we recommend that you remove 123HD-Ready. It is important to have additionally bundled adware deleted as well. Sometimes advertisement supported programs are camouflaged as reliable software, which can aggravate their detection. If you install authentic security software, you will not need to worry about the removal of dangerous applications. In fact, you will not need to worry about malware or adware infiltration as well.
Delete 123HD-Ready
Delete from Windows XP:
Open the Start menu and click Control Panel to open a new menu.
Now double-click Add or Remove Programs.
Remove all of the undesirable applications.
Delete from Windows Vista or Windows 7:
Navigate to the left of the Task Bar and click the Start button.
Select Control Panel and then click Uninstall a program (under Programs).
Right-click and Uninstall all undesirable programs you wish to remove.
Delete from Windows 8:
Right-click on the Metro UI menu screen and select All apps to access the Apps menu.
Now open the Control Panel and click Uninstall a program.
Find the undesirable program you wish to remove, right-click it and select Uninstall.
In non-techie terms:
123HD-Ready is a potentially undesirable application which may be categorized as an advertisement supported program as well. In order to remove it from the computer you can use manual removal guides which are presented right above, or you can install automatic malware removal software which could also help you guard the operating system in the future. Keep in mind that other unreliable programs could be running on the PC, and ignoring them is not a good idea. If you are unsure about some of the applications – scan them with a reliable tool or research them.