Do you know what Zyklon Ransomware is?
Zyklon Ransomware is a Trojan infection that is categorized as ransomware. You can obviously tell that from the program's name, but just to make sure, we can once again point out that this malicious infection encrypts your files and then bullies you into paying for the decryption key.
Currently, at the time of writing, there is no free decryptor available that would help users undo the damage inflicted by this infection. Nevertheless, that should not discourage you from removing Zyklon Ransomware from your system. It is crucial to get rid of all the malicious files before you start doing anything about the file restoration.
When you have to fight malicious infections, you have to understand how they manage to enter your computer. This particular ransomware program happens to be very similar to the GNL Locker Ransomware that we have covered on our website quite recently. This also means that the program in question employs the same distribution methods, and you can expect to encounter the program's installer via the same channels that are also used by its predecessors.
That said; it has been proved that Zyklon Ransomware travels via spam email attachments. This means that targeted users receive spam email messages that look like they have been sent from legal entities or some reputable companies. Usually, these spam emails contain attachments that look like invoices or other important documents. Users are tricked into downloading and opening them without giving it a second thought. As a result, users initiate the ransomware installation process and before long their files get encrypted.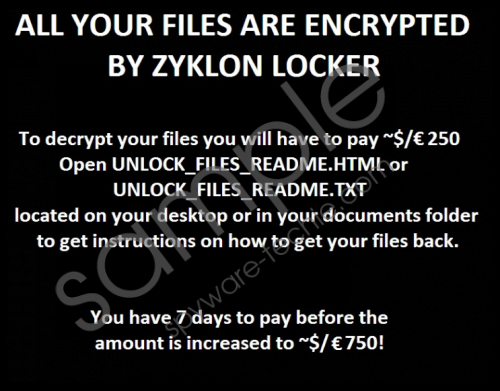 Zyklon Ransomware screenshot
Scroll down for full removal instructions
This particular infection uses the AES-256 algorithm to encrypt your files. The files that get affected by this program have the following extensions: accda, .accdb, .accdc, .accde, .accdp, .accdt, .accdu, .ashx, .aspx, .cert, .class, .docm, .docx, .dotm, .dotx, .gdoc, .html, .jpeg, .json, .laccdb, .ldif, .mpeg, .opml, .potx, .ppsx, .pptm, .pptx, .prproj, .save, .sqlite, .webm, .xlsm, .xlsx. Our security researchers also point out that the ransomware program may also encrypt other popular types of file extensions. In other words, it does not matter what kind of files usually open on your computer, if you get infected with this program, the chances are that your files WILL be encrypted.
It is not too clear whether it is a blessing or a curse, but when a ransomware program enters your computer; you do not need to guess what is going on. Zyklon Ransomware is rather straightforward about what is happening. Upon the infection, the program changes your wallpaper. It puts on a black background with a warning message and ransom instructions. The message says that all your files have been encrypted, and now you need to pay ~$/€250 to receive the decryption key from these criminals. They are also rather good at threatening computer users as they say that you have "7 days to pay before the amount is increased to ~$/€750!"
Naturally, as there is not free decryptor available, some users may feel compelled to pay the ransom to get their files back. However, you have to consider the tendency that ransomware programs may not have a well-established and secure connection with their command and control centers. Sometimes, such programs would not issue a decryption key even if you do transfer the payment. Not to mention that the act of giving your money away to these criminals is out of the question, in the first place.
Obviously, the best way to recover your files is to restore them from an external backup. This backup may be on an external hard drive, a flash drive, a cloud storage drive or even your email inbox. Consider all the potential options, as you may have copies of your files in various locations.
Also, another important thing is that you have to delete Zyklon Ransomware before you copy any of your files. It would not be a good idea to start a file transfer while the infection is still there. Hence, check out the instructions below this article and terminate the program at once.
Should you find the manual removal too complicated, you can always make use of a professional antispyware tool that will help you delete all the malicious files and programs automatically. This way you will definitely be sure that you have taken a good care of your computer.
How to Remove Zyklon Ransomware
Press Win+R and the Run prompt will open.
Type %AppData% into the Open box and click OK.
Go to the Roaming directory.
Delete the Xrxoeoa folder.
Navigate to Roaming\Microsoft\Windows\Start Menu\Programs\Startup.
Delete the .lnk extension file with a random name.
Go back to AppData and open Local.
Go to Temp and delete either the RarSFX0 or RarSFX folder.
Scan your computer with a security tool.
In non-techie terms:
Sometimes users feel helpless when they get infected with the likes of Zyklon Ransomware. However, you can always fight such infections by investing in security applications and removing all the dangerous files. It might be complicated to restore your files, but your computer's security should be your utmost priority. For any further questions, please do not hesitate to leave us a comment. Our team is always willing to assist you.