Do you know what ZX Player is?
ZX Player should be a great application that you should have active if you wish to view online videos in the most convenient way. You can come across such claims on the official website of this program. The unfortunate thing about them is that they can be considered misleading since in reality this application functions in a rather limited way, to say the least. In fact, due to such dubious functionality of this application, it has been classified by our research team as one more potentially unwanted program that you should avoid at all times. We advise you to remove ZX Player if it is ever found up and running on your operating system as it, in reality, does not provide any valuable features and could even act in a potentially harmful way. Below we provide our further findings regarding the functionality of this dubious application along with a detailed removal guide that will help you terminate it without a lot of trouble.
As soon as ZX Player gains full access to your operating system, it will embed its numerous files and registry entries all around your operating system, which will be used for its questionable functionality. At first sight, it might seem that this potentially unwanted program could turn out to be quite handy as it will present you with quite a few links leading to various web content. Unfortunately, the overall functionality of this application cannot be considered useful as it often crashes for no reason whatsoever. Also it, at times, it will simply refuse to load videos. It goes without saying that such activity will not make your online video viewing experience any better. In fact, we believe that it will only alter it for the worse. The most dubious thing about this potentially unwanted program is the fact that it is capable of triggering unauthorized connections to the Internet. While most of such initiated connections are benign, you should be aware of the fact that in some rare cases an unauthorized download could take place, which could consequently turn out to be of some unwanted and even invasive program. Even though this does not happen often, it is an instance that remains a possibility,which could turn out to have detrimental outcomes. It should be more than obvious that having ZX Player active on your PC could be much more than just annoying.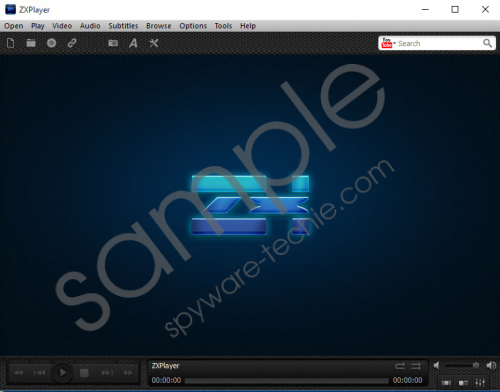 ZX Player screenshot
Scroll down for full removal instructions
It also has to be noted that you cannot download ZX Player from its developer's official website since it does not host a direct download link. This means that the devious program is distributed in some other way. During our investigation, we have found out that in quite a few cases this program is distributed via software bundles. Such means of distribution are often used by malware developers to spread their invasive software. Therefore, if you have ZX Player, and you did not install it yourself, make sure to check your operating system for other questionable programs. If any suspicious application is found it should be removed without any hesitation along with the potentially unwanted program in question. To avoid infecting your PC in such a way, you must avoid all third-party download websites as they are notorious for being the primary source of unwanted programs. Also, you should pay your utmost attention to every single step of a setup procedure since you could be presented with a chance to cancel the installation of some unwanted third-party application. Often users end up allowing an installation to take place without realizing that they do so as they rush through the installation procedure. Last, but not least, make sure to install a reliable antimalware tool on your PC, if you do not have one already. Such a tool is critical to your overall virtual security, as it provides overall system security at all times.
Make sure to execute the removal of ZX Player by following the instructions that we provide below carefully. It is important to remove everything associated with this potentially unwanted program if you wish to stop it from functioning altogether. As soon as you are done performing the manual removal, we highly advise you to run an extensive analysis of your operating system for other potential leftovers associated with ZX Player. We advise you to do so as you will be sure that everything associated with it has been successfully terminated from your PC once and for all.
How to remove ZX Player from your PC
Windows 10
Right-click the Windows button.
Select Control Panel.
Click Uninstall a program.
Select ZX Player and click the Uninstall button.
Windows 8 and 8.1
Right-click your Task Bar.
Select Control Panel and click Uninstall a program.
Right-click the unwanted program.
Select the Uninstall option.
Windows 7
Click the Windows button and select Control Panel.
Click Uninstall a program.
Select the unwanted program.
Click the Uninstall option.
Windows XP
Tap the Windows key on your keyboard.
Select Control Panel and click Add or remove programs.
Double-click ZX Player.
Confirm that you want to remove it.
In non-techie terms:
If you are a user that finds manual removal and analysis of their PC too complicated, make sure to follow the alternative removal guide that we present below. Malware experts working at Spyware-Techie.com have crafted such instruction that they will allow you to delete ZX Player in an automatic way.