Do you know what ZipperPro is?
ZipperPro's name implies that it is a file archiver like 7-Zip or PowerArchiver, but we have news for you. This file archiver is considered to be a potentially unwanted program that you should remove as it does not provide the services it claims to provide. Our security analysts have tested this program and discovered some very interesting things about it. Basically, ZipperPro is a vehicle for distributing other potentially unreliable applications and adware-type programs. Therefore, you can forget about using it to archive your personal files. If you have this program installed, then we suggest that you read this full article as it contains very important information.
This program is the brainchild of a company called SoftPulse SL based in Tenerife, Spain. It is an actual company — not a fake one. But that does not make it any more legitimate. This company appears to have at least one alias name — ElementSoft. The later company has recently rolled out a file archiver called Z-Zip which is almost identical to the program in question. However, this program's publisher is a company called Volvan Premium, yet another distributor of unreliable software based in Barcelona, Spain. Our researchers think that ZipperPro may be disseminated using software bundling, but this cannot be confirmed, as they have not found any cases of this. But what we know for sure is that this supposed archiver is promoted and distributed via a website called Zipperpro.com.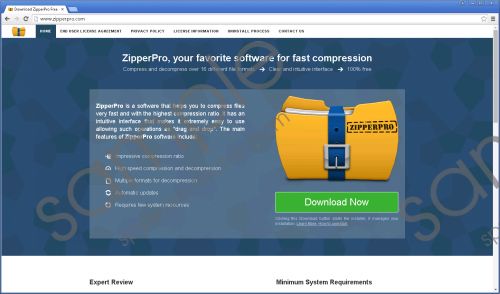 ZipperPro screenshot
Scroll down for full removal instructions
ZipperPro's website is deceptive, as it promotes the program as a file archiver that is supposed to compress and decompress file archives, such as .rar, .zip, .iso, .7z, and so on. But it does none of this. This program does not even have a user interface. In fact, this program runs as a process that secretly installs other potentially unwanted programs and adware. In no particular order, our researchers have found that its installer can install programs, such as Geek Buddy, Smart Driver updater, BRDeals, Portalsepeti, Tortuga browser, Media Player Enhance, and perhaps some other programs. ZipperPro is not installed; its background process must be launched manually, so you only need to delete its installer. However, its accompanying programs have to be uninstalled via Control Panel.
The programs promoted by ZipperPro can cause you a lot of problems. Adware in particular should be viewed with suspicion as its promoted content can be unreliable. In the worst case scenario adware can get your computer infected with ransomware and other Trojans, provided that you click the ads of course. Adware can also collect information about your browsing habits and use it for commercial purposes and might even sell it to other third parties in the advertising business. So if you want to avoid the inconvenience of dealing with all these problems, we recommend that you remove ZipperPro's promoted programs.
The research conducted by our security analysts has not been in vain. It is obvious that ZipperPro's true purpose is not to compress or decompress files, but provide other unreliable programs the means to enter your computer. Some of its promoted programs are more untrustworthy than others. Adware is something that you should be most concerned about, because it opens up possibilities for more malware to enter your computer. So do not hesitate to remove these programs if you tried installing ZipperPro.
Terminate ZipperPro's background process
Right-click on the Taskbar.
Go to Start Task Manager.
Click Processes and locate a process called ZipperProSetup.exe.
Right-click on it and select End Process.
Uninstall ZipperPro-related programs
Windows XP
Open the Start menu found on the Taskbar.
Click Control Panel.
Select Add or Remove Programs.
Identify the program and click Remove.
Windows 7 & Vista
Click Start located at the bottom left side of the screen.
Select Control Panel and click Uninstall a program.
Identify the undesirable program and click Uninstall.
Windows 8 & Windows 8.1
Open the Charm Bar and click Search.
Open the Control Panel and select Uninstall a program.
Identify the unwanted software and double-click on it.
Click Uninstall.
Windows 10
Enter Control Panel in the search bar located on the Taskbar.
Go to Uninstall a program and identify the application, and then double-click on it.
Click the Uninstall button.
In non-techie terms:
ZipperPro is a deceptive program that poses as a file archiver, but actually serves as a vehicle for various unreliable programs to enter your computer. The installer found on its website is bundled with other software by default. ZipperPro does not have a user interface; it just runs in the background and installs other programs. So, if you thought that it is a legitimate program, then please reconsider your position. We recommend that you remove its accompanying programs as soon as you can