Do you know what Zip Cruncher is?
Zip Cruncher is a tool used for extracting files from ZIP or RAR archives, and so on. It is also considered to be a potentially unwanted program. The computer security specialists say there are a couple of reasons for it. For starters, the application's official site provides a list of what makes their product better, making it sound as if the program is quite advanced, but in reality, it appears to be poorly made. What's more, as the tool settles in it may create a folder in an unusual directory with files that could be used to gather information about user's browsing habits. We do not say the potentially unwanted program might violate your privacy, but it is possible it could use collected data for marketing purposes. To learn more details about the application, we encourage you to keep reading this article. Afterward, if you decide you do not want to use such a questionable tool we could help you delete it from the system if you only follow the provided removal guide.
The software can be downloaded from its official site called zipcruncher.com. It explains "the four elements of the perfect product," which are security, speed, interactivity, and free service. We do not say the application does not work as it claims to, it is we do not think it could live up to some users expectations, especially of those who have ever used 7-Zip, WinRAR, or other well-known tools that have proved their worth over the years. As you see Zip Cruncher does not have a lot to offer. Even its interface seems to be loaded from a particular website. It is a bit strange decision given most software developers use hardcoded interface. Besides the potentially unwanted program offers only two functions, which are placing data in ZIP archives and extracting ZIP/RAR archives. Other than the buttons allowing to perform these described tasks the tool has nothing else to offer. It does not even have a Settings menu. Plus, all created archives or extracted ones go to %USERPROFILE%\Documents and the user cannot change this directory. Also, data from extracted archives might be placed in a folder named according to the titles found on the archive itself and not the archive's name.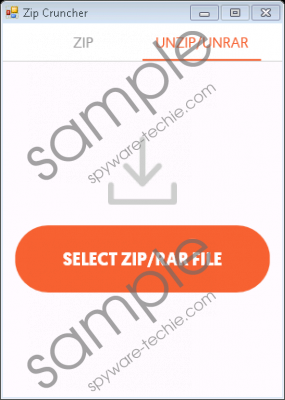 Zip Cruncher screenshot
Scroll down for full removal instructions
It seems to us the application has nothing special, but it can get the job done. Nonetheless, the central question is can it be trusted and is it worth taking any chances when there are more reliable free tools to choose from? Our computer security specialists think not. Even if you do not mind how poorly it is developed the fact it could create data in unusual directories upon installation is somewhat suspicious. To be more precise, the folder we are talking about should be called "AppMaster" and is supposed to be placed on %APPDATA% and not Program Files directory. From the title itself you cannot suspect it could be anyhow related to Zip Cruncher, but if you open the folder, you should find files like apps.txt, pref.txt, AppMaster.exe.config, ZipCruncher.ico. During our tests we discovered the file named AppMaster.exe.config may have a Google Analytic script name inside of it. There is a possibility it could be used to gather data about the user's browsing habits.
It is true, the potentially unwanted program's End User License Agreement document mentions the software could gather user data, but what raises suspicion is the fact it says it could do so to "offer upgrades or other products," which might mean it could provide you with advertisements. If you would not like it and you find this as suspicious as we do, we encourage you not to take any chances with this potentially unwanted program. Those who want to erase it manually could follow the removal guide available below. It will show how to uninstall Zip Cruncher manually. The other way to get rid of it is to employ a reputable antimalware tool and perform a full system scan.
Eliminate Zip Cruncher
Press Windows Key+E.
Navigate to %APPDATA%
Find a folder called AppMaster.
Right-click this folder and press Delete to remove all files inside of it at once.
Close File Explorer.
Empty Recycle Bin.
In non-techie terms:
Zip Cruncher might seem like a perfect application for converting various archives, but according to our computer security specialists it cannot be trusted. Apparently, the application could gather information about its users, and during its installation, it creates a folder with data in an unusual directory, with data that could be used to gather information about the user. Not to mention, the program seems to be poorly made as its interface is not even hardcoded, but loaded from a particular server instead. No doubt, there are more reliable and free tools that can extract data from ZIP or RAR archives, so if you are in need of such application, we would advise you to look for more reputable software. If you think it would be a good idea as well, we encourage you to get rid of this potentially unwanted program. Our computer security specialists say it could be eliminated either while following the removal guide available a bit above or with a trustworthy antimalware tool.