Do you know what ZenSearch.com is?
ZenSearch.com is a search engine that offers you links to popular websites and allows you to access different search engine using a single search box. The search engine offers access to Amazon, Bing, Ebay, Google, Facebook, and some other websites. In order to retrieve search results from those websites, certain prefixes have to be used, and they are available at zensearch.com/how. For instance, if you want to browser Amazon, your search term has to be preceded by the prefix "a:", whereas Google search results will be retrieved if you use the prefix "g:". As regards links to different websites, ZenSearch.com offers access to BBC, CNN, Wikipedia, Facebook, Twitter, Pinterest, and some other popular websites.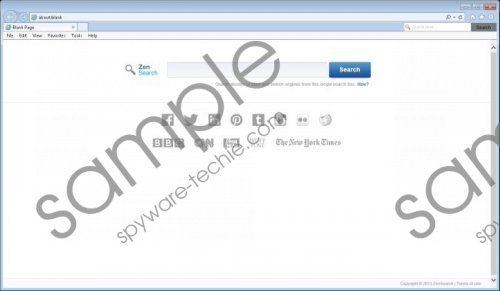 ZenSearch.com screenshot
Scroll down for full removal instructions
The search engine ZenSearch.com is promoted by a browser extension, which ads its search box to Internet Explorer. Our analysis of the program has showed that the newest versions of Google Chrome disable the program. However, on some older versions, the program can access your private information, which is one of the reasons why you should remove the ZenSearch program.
Unlike browser hijackers which change browser settings without your permission, the ZenSearch program asks whether you want to have the settings changed. The ZenSearch.com search engine can be set as your default search provider and home page. In order to prevent these changes, you have to deselect two checkboxes, but, if you do not remember them, that suggests that you pay little or no attention to the information provided to you during installation processes.
Similarly to other search provider, the search engine ZenSearch.com uses some tracking techniques to monitor you. ZenSearch.com uses cookies and web beacons, the latter of which are usually employed by third parties. Third parties and the developers of ZenSearch.com want to know your preferences and have a chance to enhance your experience. If you do not want to use ZenSearch.com and be monitored by ZenSearch.com, simply remove it from the computer.
When it comes to removal, we recommend that you rely on a reputable security program. It is possible to uninstall the ZenSearch program manually, but it is also important to shield the system against various threats, including Trojan horses, adware programs, rogue anti-virus programs, and many other threats. Our team recommends using SpyHunter, because this program removes the ZenSearch program and the search engine ZenSearch.com. In case you have any questions, feel free to leave a comment below.
How to remove ZenSearch.com
Windows Vista and Windows 7
Open the Start menu.
Click Control Panel.
Select Uninstall a program.
Remove the ZenSearch program.
Windows XP
Click Start.
Select the Control Panel option.
Select Add or Remove Programs.
Uninstall the unwanted program.
Windows 8
Move the mouse pointer to the lower-left corner of the screen.
Right-click on the pop-up windows.
Select Control Panel.
Click Uninstall a program and remove ZenSearch.com.
In non-techie terms:
ZenSearch.com is a search engine that offers you access to various social networking websites and search provider. In order to have ZenSearch.com removed from your browsers, you can implement our recommended security program. The instructions below will help you install our recommended program, so take action right now.