Do you know what Zekwacrypt Ransomware is?
If you ever happen to come across a program that goes by the name of Zekwacrypt Ransomware, make sure to stay away from it at all costs. It is crucial to do so since ransomware programs are ones of the most dangerous applications out there on the web. That is so because this malware like the majority of other programs of this category can lock your personal data without any notification. It goes without saying that such functionality of this malicious program could have devastating outcomes, to put it lightly. To learn how this devious piece of software works, make sure to read the rest of this report as we provide detailed info regarding its overall functionality. We also present a few virtual security tips, which should help maintain a fully secure system, along with a detailed removal guide that you should use immediately if you have Zekwacrypt Ransomware up and running on your PC.
The basic functionality of Zekwacrypt Ransomware is quite conventional. Right after it successfully enters your operating system, it will start an encryption procedure. Developers of this dubious program have designed this procedure to be totally silent so users would not realize what is going on. The devious program in questions uses a strong encryption cipher known as RSA-4096, which eliminates any possibility to conduct a manual decryption. During the investigation our research team has discovered that this malware locks a variety of file types such as .mp3, .mpg4, .jpeg, .png, .doc, .docx, .pdf, .psd, and many others. Every single file affect by this malicious application will receive an extension that consists of seven random letters. Right after your data is encrypted, you will be presented with a warning note in the form of a .txt file. Within it, you will find information about the fact that your data is locked by this malware and that you need to contact its developers for further instructions. It is important to note that getting in touch with cyber crooks is a risk that no user should ever take. It is more than likely that this malware's developers will try to lure money from you. Keep in mind that cyber crooks that crafted this ransomware are not obliged in any legal way to provide a decryption service even if you happen to pay up. By now it should be more than obvious that a complete removal of Zekwacrypt Ransomware is essential and should not be delayed.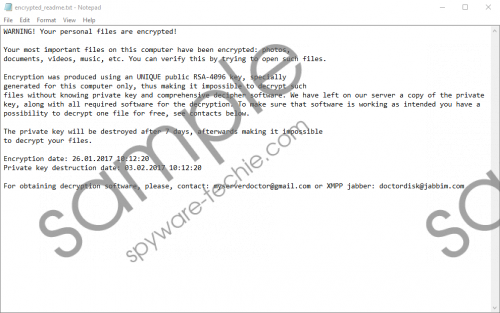 Zekwacrypt Ransomware screenshot
Scroll down for full removal instructions
To keep your personal computer safe and secure at all times from programs such as Zekwacrypt Ransomware, you must take a few precautionary steps. To have a properly secure computer at all times, you must have a professional antimalware tool active on your personal computer at all times. Such a tool is crucial since it can detect and delete any suspicious program in an automatic manner. In addition to such a tool, we recommend practicing safe browsing habits. This means that you should refrain yourself from all suspicious third-party download websites as they are infamous for being the primary source of bundled installers, which are often used by malware developers to spread their questionable programs. You can significantly reduce the risk of infecting your computer in such a way by obtaining all of your software from its official developers' websites only. Also, you should be aware of the fact that in quite a few cases cyber crooks use manipulative marketing techniques to lure unsuspecting Internet users into downloading their devious program without understanding how it functions. These seemingly simple preventative steps will allow you to maintain a fully secure operating system at all times.
The complete removal of Zekwacrypt Ransomware should not be delayed under any circumstances. The instructions that we provide below should be followed with care since it is important to delete this ransomware entirely because that is the only way to stop its malicious functionality. To be sure that the removal of this malware has been successful, you need to execute a detailed analysis of your PC for potential leftovers linked to Zekwacrypt Ransomware. That is crucial because traces of this application could be used to silently restore it.
How to remove Zekwacrypt Ransomware from your PC
Click the Windows button.
Type regedit into the search box and select it.
Navigate to HKEY_LOCAL_MACHINE\ Software\Microsoft\Windows\CurrentVersion.
Select a registry key called Ext and delete it.
Navigate to HKEY_LOCAL_MACHINE\ Software\Classes.
Now select a registry key called default and remove it.
Select and remove the exnrypted_readme.txt file from your desktop.
Right-click your Recycle Bin and select Empty Recycle Bin.
In non-techie terms:
If you happen to find manual removal and analysis of your PC too clanging, do not worry. You can terminate this ransomware by using the alternative removal guide crafted by our skilled research team. Follow the instructions that we present below and you will be able to delete Zekwacrypt Ransomware in an automated manner.