Do you know what Yula is?
Yula is a browser add-on that is aimed at enhancing your browsing behavior. The application displays web banners, pop-up advertisements, and coupons to make your time on the Internet more enjoyable. Due to the behavior displayed, Yula is categorized as adware and can be removed from the PC by a powerful spyware and malware removal tool. It is crucial to read the information that you are provided with by the installation wizard, because you can find a lot of useful information, which can help you decide whether you want to install the program or not.
Yula is promoted at yulasee.com and is identical to many adware programs, including WebSpades, Browse Mark, Web Flipper, and Browser Mark. These programs are promoted on similar websites and are distributed by various installers. If you do not remember installing Yula by yourself, do not hesitate to scan the computer to make sure that the computer is not afflicted by any harmful applications.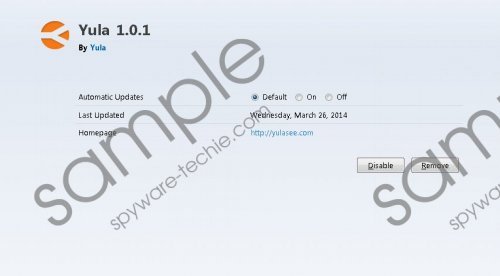 Yula screenshot
Scroll down for full removal instructions
Yula is not a computer infection, but its pop-up advertisements may take you to unreliable websites. Yula does not endorse third parties by advertising them, and you interact with those advertisements at your own risk. Moreover, Yula does not sell products or services, which means that every time you click on some pop-up advertisement, coupon or web banner, you start interacting with a third party website. The adware program uses several advertising servers, one of which is fra1.ib.adnxs.com.
It is highly advisable to ignore pop-up recommendations to update your Internet browsers, media players or some other software program. You should also disregard pop-up notifications claiming that you have just won some prize. It is very likely that you will be taken to a questionnaire where you will have to provide your personal information in order to get a chance to win some prize. In order to prevent different types of advertisements, some of which may be very obtrusive and offensive, and scam websites, remove Yula from your browsers.
The adware program may also monitor your online behavior, including your clicks, search terms, and browsing history. Even though the application is aimed at collecting non-personally identifiable information, it is possible that some pieces of information may help the developers of the adware program to guess your identity. As a result, you may receive targeted advertisements or some highly personalized commercial offers.
It is possible to uninstall Yula, but we recommend that you implement SpyHunter. This real-time security tool can easily remove the adware program and safeguard the system against numerous computer threats. If you want to be sure that you browse the Internet safely, do not hesitate to implement the recommended program.
How to remove Yula
Windows Vista and Windows 7
Open the Start menu.
Click Control Panel.
Select Uninstall a program.
Remove the unwanted application.
Windows XP
Click Start.
Select Control Panel.
Click Add or Remove Programs.
Uninstall the adware program.
Windows 8
Move the mouse to the lower-left corner (now known as a hot corner).
Right-click.
Select Control Panel.
Click Uninstall a program and remove the adware program.
In non-techie terms:
Yula is an adware program that displays coupons, web banners, pop-up advertisements and other ads to enhance your browsing experience. In order to get rid of Yula ad, implement a spyware removal tool so that you can also shield the system against various computer threats.