Do you know what Ysearchservice is?
Ysearchservice is not the program you should look for if you want to improve your Internet surfing experience. In fact, if it already found its way to your PC, you should remove it immediately. It is labelled as an advertising-supported program, a category of applications that are generally limited to the specific function of promoting third-party content. What's more, computer security experts know that adware apps such as Ysearchservice might also be the reason why computer users have to face certain Internet-related security problems. Thus, if you want to make sure your computer is never compromised by dangers that you might run into while surfing the web, it is best that you delete Ysearchservice from your PC.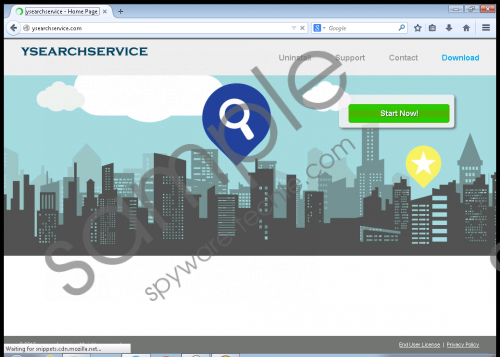 Ysearchservice screenshot
Scroll down for full removal instructions
Ysearchservice was created by SuperWeb LLC, a developer responsible for tens, if not hundreds, of adware apps that share identical functionality and are known to accidentally expose target systems to malicious Internet-based content. Similar to Coupons Free, Flying Deals, and First Color, when Ysearchservice reaches your PC, it will present itself as a web browser add-on, compatible with Internet Explorer and Mozilla Firefox (the newest versions of Google Chrome are known to block this adware app at the moment). As long as Ysearchservice stays on your PC, you will be continuously served shopping offers from such popular online retailers as Bestbuy, Amazon, Ebay, and other sites. However, you might also see commercial ads (some of them might be tagged with "Ads by ysearchservice" or "Provided by ysearchservice") on the sites you enter during your casual online surfing activities. So, if you do not want to keep being distracted by various pop-ups or banners, you should remove Ysearchservice from your machine. To add to this, the main concern related to adware programs such as Ysearchservice is that they might not always display trustworthy third-party content. There have been many instances when the promoted links turned out to be corrupted, and clicking on them redirected computer users to malware-related sites. You should think about terminating this app because there is no reason why you would want to keep software that renders your computer activities dangerous.
You will not be able to download Ysearchservice from the official homepage, ysearchservice.com, and this is, in fact, what the developers of this adware app intended. In other words, SuperWeb LLC prefers to distribute its programs via software bundles that are found on various unreliable file sharing sites. So, if you do not want to remove multiple malicious apps that were dropped to your system by unreliable third-party installers, always choose the Advanced/Custom installation process, especially when installing freeware or shareware programs.
It is high time we discussed the removal of Ysearchservice, as this adware app is totally worthless -- and even malicious. Luckily, the process is not complicated because you can delete this app from Control Panel. However, if you want to make sure your system is completely clean and protected from future threats, implement professional antimalware software in your computer. Also, be cautious when surfing the web and choosing applications and utilities you want to install to your PC.
How to remove Ysearchservice
Windows XP:
Click the Start button and choose Control Panel in the Start menu.
Open Add or Remove Programs.
Select the program you want to delete in the list.
Click Remove.
Windows 7 and Vista:
Click on the Start button and choose Control Panel in the Start menu.
Click Programs.
Choose Programs and Features.
Select the application you want to terminate.
Proceed by clicking Uninstall/Change.
Windows 8 and 8.1:
Hover the mouse over the bottom right corner of the screen.
Select Settings in the Charm bar.
Go to Control Panel.
Select Programs and Features.
Choose the unwanted application in the list.
Click Uninstall/Change to remove Ysearchservice.
In non-techie terms:
Despite what Ysearchservice might promise you, this adware app is interested in serving advertisers and developers more than you. Remember that clicking on the promoted third-party ads might be risky as this adware app does not monitor the content that might lie on the third-party sites. Remove this advertising-supported program by using an authentic antimalware scanner.