Do you know what Yoursearchresults.biz is?
Yoursearchresults.biz is a web page that might bet set as your homepage and search engine. At the time of writing, it does not work properly yet, but Yoursearchresults.biz promises to provide "real content" really soon. If you ever notice that Yoursearchresults.biz has been set without permission, delete it immediately from your browsers. The removal of Yoursearchresults.biz means that you will be able to set another homepage and search engine. In addition, you will reduce the possibility of encountering threats. We do not think that you will get rid of Yoursearchresults.biz easily because this threat cannot be removed via Control Panel. We will introduce you to the removal of Yoursearchresults.biz further in this article. We also promise to explain why it is better to get rid of this web page.
It seems that Yoursearchresults.biz will act as a search engine in the future. As it might change at any moment, you will probably already see the search box on the main page of Yoursearchresults.biz when you will be reading this article. If it is true, do not use it to search for the information because you will be presented with various advertisements and links. Yoursearchresults.biz itself might put ads on its startup page. It is not advisable to click on them too because you might be taken to an untrustworthy web page. Unreliable search engines might also collect information about users. As Yoursearchresults.biz is one of them, it might track you too. You should get rid of Yoursearchresults.biz for the sake of your system's safety mainly. It is advisable to do that to protect your privacy too.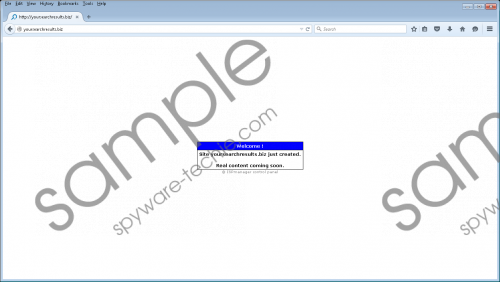 Yoursearchresults.biz screenshot
Scroll down for full removal instructions
We do not think that Yoursearchresults.biz is a completely reliable search engine also because it is distributed via bundled malicious installers. The majority of users want to download and install a single program, e.g. a PDF creator, but they get a bunch of software because they try to download that program from a third-party web page. There are hundreds of other suspicious applications that use the bundling method to slither onto computers. Therefore, you have to be attentive. If you do not want to see the changes applied to your browsers ever again, install a security tool and always read information provided in the setup wizard. In most cases, you will be able to decide yourself which programs to install and which not.
Users who do not want to see the presence of Yoursearchresults.biz anymore have to remove this web page ASAP. This is advisable to do that not only because Yoursearchresults.biz is really annoying, but also because it might put your system at risk. Below you will find the instructions that will help you with the Yoursearchresults.biz removal.
Delete Yoursearchresults.biz from your browsers
Internet Explorer
Open your browser.
Tap Alt+T.
Click Internet Options and open the Advanced tab.
Click Reset.
Put a tick in the box alongside Delete personal settings and click Reset.
Mozilla Firefox
Open your browser.
Tap Alt+H and click Troubleshooting information.
Select Refresh Firefox.
Click the Refresh Firefox button again.
Google Chrome
Launch your browser.
Tap Alt+F.
Select Settings.
Click Show advanced settings.
Click Reset settings.
Select Reset.
In non-techie terms:
It is not enough to remove Yoursearchresults.biz from browsers. As it comes bundled with other applications, there is a very huge possibility that other threats are installed on your system too. We do not recommend that you try to delete them by hand because it might be very difficult to do that and you will not be able to detect those threats easily. The SpyHunter antimalware suite is ready to help you with that, so we suggest using it to check your system's condition.