Do you know what YourDailyTrailer is?
YourDailyTrailer is a potentially unwanted program that pushes you to use http://search.mysearch.com. This is a suspicious search engine that can showcase sponsored content, as well as collect information about you and your interaction with the links and advertisements shown to you. Most users acquire the PUP – and the hijacker, subsequently – without even wanting it or knowing about it. So, have you installed the program yourself or was it installed without your notice? In any case, you have to view this suspicious application in the same light: It is an unreliable piece of software that should be deleted. If you need proof that this PUP is not as good as it might seem to be, you should read this report. Once you remove YourDailyTrailer, you need to scan your operating system to check if other PUPs or more malicious programs require elimination as well. Unfortunately, it is most likely that you will find other threats because the PUP usually enters operating systems via software bundles.
The official installer of YourDailyTrailer is available at yourdailytrailer.yournewtab.com (as well as chrome.google.com/webstore/detail/your-daily-trailer/almhhaadjonoloebfhneoaolkhkblkao at Chrome web store). Regardless, users who face this potentially unwanted program are most likely to acquire it by executing software bundles. A bundle is a collection of different programs carried by the same installer. Legitimate installers exist, and they can offer the programs created by the same or an affiliated company. On the other hand, malicious installers exist as well, and most bundles actually carry malware and unreliable programs. Pop-up installers could be used to spread the hijacker as well. In this case, the installer representing YourDailyTrailer could show up randomly, and you could be forced to install the PUP as well. Overall, the distribution of this suspicious application is very disconcerting, and trusting it is very risky. Nonetheless, this is not the main reason to delete it. It all comes down to the search tool that the application introduces its users to.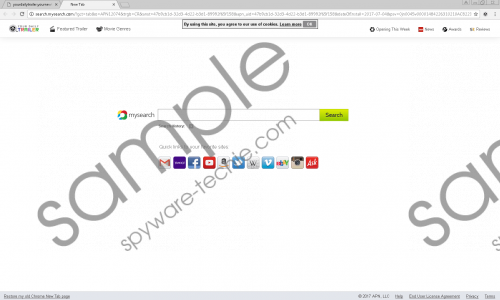 YourDailyTrailer screenshot
Scroll down for full removal instructions
If you installed YourDailyTrailer willingly, did you know that search.mysearch.com would take over the New Tab of your Chrome browser? The official website does not represent this hijacker in a clear way. In fact, the only mention of this search tool can be found in the Privacy Policy and EULA links that are shown right below the DOWNLOAD link. These links route to mysearch.com pages that are represented by APN, LLC. If you click the Privacy Policy and Terms of Service links found at the bottom of yourdailytrailer.yournewtab.com, you will be routed to thewhizltd.com pages represented by The Whiz Ltd. The same companies are associated with another PUP called "Private Search Plus." Search.mysearch.com can showcase advertisements and sponsored content, and so its search services are not reliable. And so, even though YourDailyTrailer presents links to rottentomatoes.com, variety.com, hollywoodreporter.com, and other interesting sites, it is not worth keeping around. After all, its services are not beneficial, and so there is no reason not to delete it. One more important thing to note is that YourDailyTrailer modifies proxy settings, and that is highly suspicious.
As you can see, there are plenty of reasons why you should delete YourDailyTrailer from your Chrome browser. The guide below will help you eliminate the extension, as well as disable proxy settings. After this, you MUST scan your PC because you do not want to overlook any infections. If any are found, remove them immediately. You can do so manually using the guides on our website (if you cannot find the instructions you need, post a comment below), or you can install anti-malware software set up to find and delete malicious threats, as well as fix the proxy settings automatically.
Remove YourDailyTrailer from Chrome
Launch the browser and tap keys Alt+F.
Select More tools for more options.
Click Extensions and identify the unwanted add-on.
Click the recycle bin on the right and select Remove.
Tap Alt+F again and select Settings.
Click Advanced at the bottom and then move to System.
Click Open proxy settings.
Move to the Connections tab and click LAN settings.
Under Proxy settings check the box next to Use a proxy server for your LAN.
Click OK and then restart the browser.
In non-techie terms:
YourDailyTrailer looks like a normal extension that offers great services, but once you install it, it should become obvious that it does not work in a beneficial manner. In general, it is most likely that this PUP was created to promote search.mysearch.com, which is a hijacker that might showcase unreliable sponsored content. Besides that, it can record information about your activity and browsing history, which you might be uncomfortable with as well. It is most surprising that the PUP modifies the proxy settings. All taken into consideration, we believe it is best to delete YourDailyTrailer right away. You can follow the instructions above, or you can employ an anti-malware tool that will automatically erase the PUP along with all other threats, as well as restore the proxy settings.