Do you know what "Your Windows has been blocked" +1-844-528-4333 is?
"Your Windows has been blocked" +1-844-528-4333 is a fake alert that can show up in your browsers when you get forwarded to a malicious webpage. Although not necessarily but it is possible that your computer has been infected with malware and this is why you see this warning page. In any case, we do not encourage you to call the toll-free phone number that is promoted on this page and the pop-up alert as a Microsoft support number. In fact, this is a typical technical support scam that we have seen in the case of "Your Computer May Have A Virus Scary Alert," "Porn Virus Detected Microsoft Support Scam," and many more. Of course, nothing too bad can happen unless you choose to call this number. Still, it is important that you remove "Your Windows has been blocked" +1-844-528-4333 from your computer if you want to feel safe in your virtual world.
Our researchers say that you are exposed to this fake alert when you are redirected to help.windows.18ts1uz.microsoft.especific.s3-website-us-east-1.amazonaws.com/xmain3/. This webpage claims to be a Microsoft support page that also shows you a pop-up window. You can end up on this page if your PC is infected with malware, such as browser hijackers and adware programs, which are usually the ones that can redirect you to malicious pages. It is possible that you infected your PC with such threats by clicking on unreliable third-party advertisements or installing free software bundles you downloaded from shady file-sharing pages. A bundle may contain a number of potentially unwanted programs as well as malware infections like adware programs, fake alerts, Trojans, ransomware programs, and browser hijackers. You need to be extra careful every time you install such a bundle to deselect the components before they can harm you or your system. If you find this fake alert in your browser, we suggest that you use a trustworthy online malware scanner to detect all threats on board after you delete "Your Windows has been blocked" +1-844-528-4333.
It is, of course, also possible, though quite unlikely, that your computer is not infected but you simply click on the wrong content on the wrong page to get redirected to this malicious page. In this case you may be able to remove "Your Windows has been blocked" +1-844-528-4333 by exiting your browser. However, if you relaunch it and this fake alert still comes up, chances are that your computer is indeed infected. This is why we believe that it is important to check it with a proper scanner.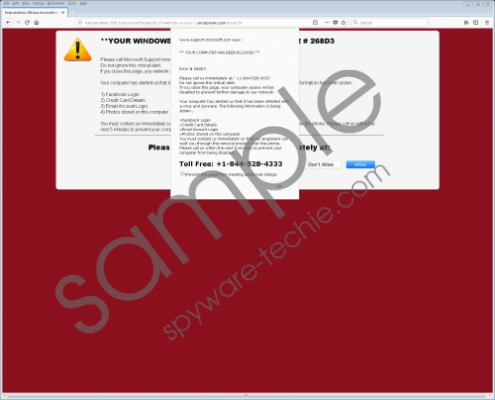 "Your Windows has been blocked" +1-844-528-4333 screenshot
Scroll down for full removal instructions
Whenever you see such a warning there are two main signs that can tell you the real nature of the page and the possible intention behind it. First, the URL address that cannot be the same as a legitimate Microsoft support page; however, it can contain words in the address that may fool you into believing that you are actually on an authentic page. Second, the level of grammar and spelling of such fake alerts is usually a giveaway, too. Yet another way for you to know that you are dealing with a scam is that Microsoft would never contact you this way about an alleged system infection. This fake alert hurries you to call +1-844-528-4333 immediately that is allegedly a Microsoft support number. Of course, it is not true. You will simply talk to a salesperson trying to sell a questionable security product to you. If you do not want to waste your money or even disclose sensitive information to these schemers, we suggest that you remove "Your Windows has been blocked" +1-844-528-4333 right away.
First of all, we advise you to reset you main browsers, including Internet Explorer, Mozilla Firefox, and Google Chrome. Please use our guide below if you feel ready to act. If, for any reason, this would not solve your problem and this fake alert would appear again, we also recommend that you uninstall any suspicious program you may be able to identify in your list of installed programs via Control Panel. For the best possible protection of your computer, we suggest that you install a professional anti-malware program, such as SpyHunter, or any other you find suitable and reliable enough for you.
"Your Windows has been blocked" +1-844-528-4333 removal from your browsers
Internet Explorer
Tap Alt+T and navigate to Internet options.
Choose the Advanced tab and click Reset.
Select the Delete personal settings checkbox.
Press Reset and press Close.
Google Chrome
Tap Alt+F and select Settings.
Scroll down and click Advanced.
Scroll down and click Reset.
Press Reset.
Mozilla Firefox
Tap Alt+H and choose Troubleshooting information.
Click Refresh Firefox at the top.
Click Refresh Firefox in the confirmation window.
In non-techie terms:
"Your Windows has been blocked" +1-844-528-4333 is a new fake alert that can fool you into calling a toll-free number disguised as Microsoft technical support. This is indeed a typical technical support scam that you need to consider as a fake alert. Nothing is true what this warning message claims; well, may the possibility that your system is infected but this infection may be the one responsible for this fake alert. This is an obnoxious way to market a security tool as a matter of fact. You should definitely close your browser window the moment you see that this fake alert comes up. We recommend that you remove "Your Windows has been blocked" +1-844-528-4333 by resetting your browsers and deleting all questionable applications you have installed lately. If you want to protect your computer from future threats, you should install a reliable anti-malware program.