Do you know what Your Search Tool is?
Your Search Tool is meant to offer you access to Yahoo Search directly via your browser's address bar. Does this make sense? It does not because if you set search.yahoo.com as your default search provider, you will be able to access Yahoo Search results without installing any suspicious extensions. Ultimately, the extension is completely useless, and you will not face better search services by employing it. This is the first reason it is classified as a potentially unwanted program, or PUP. Another reason is that this extension introduces advertisements based on your browsing activity via the popular search engine, and that makes interacting with Yahoo Search kind of risky. Without a doubt, this is the main reason we recommend removing Your Search Tool from your web browser. If you are confused, continue reading this report, and we are sure that you will know what to do in the end.
You might have downloaded Your Search Tool from yoursearchtool.com or the Chrome web store (the installer is found at chrome.google.com/webstore/detail//pnmllhjmofmdelekogimjbeaogjiigoi), but you might have downloaded this suspicious extension from a third-party source as well. Do you remember installing the PUP along with something else? If you do, we strongly recommend scanning your operating system. A reliable malware scanner will determine if you need to delete threats, and if that is the case, you should not waste time to perform removal. All in all, regardless of how you install Your Search Tool, if you do, you grant it the permission to analyze your browsing history, change search settings, and also modify the data you see on certain websites. It is most important that the PUP uses search.yoursearchtool.com to replace your new tab, homage, and default search provider on Google Chrome.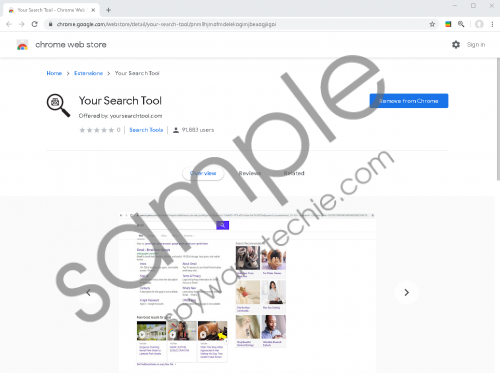 Your Search Tool screenshot
Scroll down for full removal instructions
The interface of search.yoursearchtool.com is not exciting at all. All you get is a search box, and if you enter keywords into it, you are redirected to search.yahoo.com. The results are modified, which is why we do not recommend trusting the search tool. If you set Yahoo Search as your new tab, homepage, and default search provider, you should be safe. However, if Your Search Tool has the power to modify the results that you see, you could be in trouble. According to the Privacy Policy supporting this PUP, the creator is Eightpoint Technologies, Ltd., and this company is responsible for Find A Flight Pro, Breaking News Plus, Watch Movies Live, and a bunch of other potentially unwanted programs. The experts in our research team recommend deleting them all. The main reason is that they all use a reputable search engine to showcase sponsored links/ads, and interacting with them is too risky because it is impossible to know who works with Eightpoint Technologies and how the company screens the links it injects.
At this point, only Google Chrome users need to worry about Your Search Tool, and so the instructions below show how to remove the PUP from this browser. If you find that you need to delete the PUP from a different browser – which could happen if it crosses over to different platforms in the future – you should post a comment below. Our research team will address your issues and update the guide if necessary. If you discover other threats, we strongly advise utilizing anti-malware software that could secure your system and also delete Your Search Tool and other active threats at once, automatically.
Remove Your Search Tool
Launch Google Chrome, tap Alt+F, and click More tools.
Click Extensions, find the undesirable extension, and click Remove.
Tap Alt+F, click Settings, and then click Clear browsing data.
In the Advanced section, choose a time range/boxes, and click Clear data.
In non-techie terms:
Your Search Tool might seem like a beneficial extension at first, but our research team has found that all it can do is modify the search results shown via the reputable Yahoo Search engine. Once the results are modified, you might be exposed to unpredictable links, which is why we do not recommend clicking on them or trusting the PUP at all. In the future, we want you to be much more selective and careful when downloading new extensions and applications. If you decide to delete Your Search Tool – which is what we recommend – you can either use the instructions above or you can employ an anti-malware tool that will identify and erase threats and PUPs automatically.