Do you know what Your mini Truetest is?
If you have found Your mini Truetest installed on your Google Chrome browser without your permission, the chances are that this suspicious, potentially unwanted program was installed along with third-party software by accident. According to our research team, it is unlikely that this PUP would slither in without permission, but it is likely to come packaged with other programs, and so the chances of you overlooking it are high. Needless to say, if you are careful when installing new, unfamiliar software, you should be able to avoid unwanted programs and malware. On the other hand, if you are not careful, you might install PUPs and other undesirable programs along with infections that might be able to hide themselves and perform malicious activities without your permission. Of course, we would not recommend deleting Your mini Truetest if this program was completely reliable. If you continue reading, you will learn just how unreliable this potentially unwanted program can be.
Official information does not support Your mini Truetest, and that is a huge red flag. This PUP does not have an official download page, and the installer at chrome.google.com/webstore/detail/your-mini-truetest/icepgilpdfnecncejolijhnognpbgcgd is not followed by useful information either. In fact, all we know is that this PUP is "offered by serebryakov.leha90," and that it is meant to provide you with minimized windows of different pages. Does this sound like a useful service? It certainly does not, but over 3000 users are allegedly using this strange Chrome extension. As mentioned already, it is most likely that users install this PUP by accident, and so it is most likely that many of these 3000 users are not even aware of this strange extension. If you have installed it willingly, you probably think that this add-on can help you in one way or another. In reality, all it can do is showcase adware-related sites, and, of course, you should NOT interact with those at any point.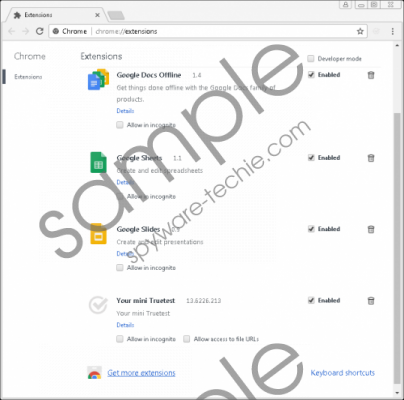 Your mini Truetest screenshot
Scroll down for full removal instructions
Do you trust Your mini Truetest? You should not because you do not know anything about this program. You do not know if it can collect and leak private information. You do not know if it is partnered up with unreliable parties who are using the PUP as a platform to showcase malicious advertisements. Most important, you do not know whether the extension is malicious or reliable. From what we know, we can tell that Your mini Truetest is all about serving unknown third parties, and it does not look like it can be beneficial for you. That should be enough for you to decide whether or not you want to remove the PUP. Before you get rid of this suspicious add-on, scan your operating system to check which other threats might require elimination. Do not waste time examining your operating system manually and install a legitimate malware scanner that will automatically uncover all infections.
You do not need a lot of experience to be able to remove Your mini Truetest manually. Hopefully, the same can be said about all other threats that are active on your operating system. If you are not sure about this, research these other threats, and if you realize that you cannot get rid of them yourself, quickly install an automated malware remover. Are you interested in manual removal? If you are, you might be able to find useful guides on our website, but keep in mind that this option is not for everyone, and it might be best to employ trusted anti-malware software instead. If you need our advice, you can always start a conversation in the comments section.
Delete Your mini Truetest
Open the Google Chrome browser and tap keys Alt+F.
In the menu on the right click More tools.
Select Extensions and identify the unwanted add-on.
Click the recycle bin linked to the unwanted add-on.
Select Remove and then restart the browser.
Inspect your computer using a legitimate malware scanner.
In non-techie terms:
Remove Your mini Truetest from your Google Chrome browser immediately. This extension is not reliable, and there is no use for it. The advertisements this potentially unwanted program displays are not trustworthy, and you will not reap any benefits by interacting with them. Overall, this PUP is too mysterious and unpredictable, and that is the main reason we recommend deleting it from your Chrome browser as soon as possible. Since other threats are likely to be active, we recommend scanning your operating system first to see if you can clean it all by yourself. If you realize that you will need the help of an anti-malware tool to have all infections erased automatically, there is no point in wasting your time with manual removal.