Do you know what Your Free Online Forms is?
Your Free Online Forms is a free browser extension offering you access to popular federal forms, including form W-4, form W-9, and some others. Upon installation, these forms becomes available through a browser toolbar, which is added to Mozilla Firefox, Google Chrome, and other popular browsers. More specifically, the toolbar added by the extension features links to different pages of the website irs.gov, which is the official website of the Internet Revenue Service responsible for the nation's tax collection.
The extension also changes the settings of the browsers so that you are forced to use its search engine retrieving search results from the Yahoo search engine. These and some other features have made researchers categorized Your Free Online Forms as a potentially unwanted program (PUP). PUPs are usually blacklisted by security programs, and, if you want to have Your Free Online Forms removed for you, implement a reputable tool right now to get rid of the unwanted toolbar and its dubious search provider.
In addition to the links related to financial procedures, Your Free Online Forms enables you to check local weather forecasts and news headlines on news.mynewswire.co. You should be careful on this site because it contains some click-bait headlines in addition to the headlines that take you to famous news websites. We advise you against browsing such click-bait and ad-supported websites to reduce the risk of being redirected to malicious sites and recommend choosing reputable news sources for your daily news browsing.
The extension Your Free Online Forms also changes the home page to search.hyourfreeonlineforms.com, which is not an actual search engine because it does not provide you with genuine search results. Instead of displaying authentic content, it retrieves Yahoo search results, which may contain some questionable links purposely added to drive more traffic.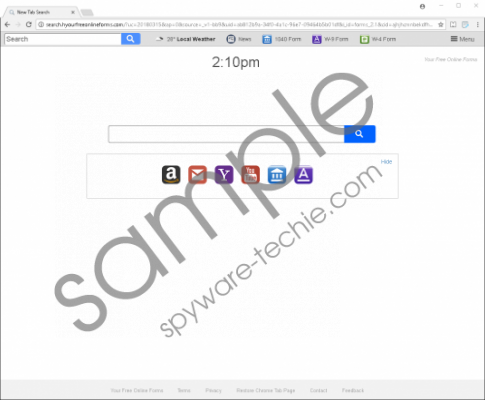 Your Free Online Forms screenshot
Scroll down for full removal instructions
It has been found that the search engine search.hyourfreeonlineforms.com is not the only domain promoted by the PUP. Other variations also exist and includes search.hyourfreeonlineforms.com, which has nothing in common with tax forms but with online gaming websites, and search.hyourfreeonlineformspop.com, also offering quick access to irs.gov.
If you do not need the forms offered by Your Free Online Forms on a daily basis, in which case you are probably willing to remove it from the browsers. Do not hesitate to do it right now, because the extension is likely to be monitoring your online browsing behavior for some marketing purposes. For example, it may record your search queries, browsing history, time spent on different websites, IP address, and other details that would be useful in creating new strategies or alterations in the service quality. All the details characterizing your interests can be shared with affiliated third parties, which may produce targeted advertisements and send them to your browsers. Fortunately, all of this can be prevented by removing the unwanted extension.
If you do not want to be bothered by similar programs in the future, choose your software wisely. Use only tested and user-friendly software from trusted websites. The extension Your Free Online Forms is promoted on its website yourfreeonlineforms.com and is also available in the Chrome Web Store. As for the latter one, you probably think that this website offers visitors only tested application, which is not true. The Chrome store has repeatedly been found spreading malicious software, so you should not trust every extension you find on this website. Be skeptical to every unknown software before you are certain that you can use it safely, and this recommendation applies when browsing different software websites.
When it comes to removal, you can try removing Your Free Online Forms manually or have it done for you by a powerful anti-malware program. Our advice is to stick to the latter option so that you can have other malicious files you are not aware of removed and, most important, the system shielded from various online threats.
How to remove the Your Free Online Forms extension
Internet Explorer
Right-click (Win 8 / Win 10) or click (older version) the Start button.
Select Control Panel.
Under the heading Programs, select Uninstall a program.
Uninstall Your Free Online Forms.
Google Chrome
Open the browser and click the button with three vertically placed dots.
Select More tools.
Click Extensions.
Uninstall the unwanted browser extension.
Mozilla Firefox
Open the browser and click the three-line button.
Select Add-ons.
Remove the unwanted extension.
In non-techie terms:
The browser extension named Your Free Online Forms is a free browser application that is aimed at providing you with quick access to employment and tax forms used in the United States. The browser extension also changes the home page and monitors online behavior. In order to put an end to the unnecessary monitoring and data gathering, remove Your Free Online Forms from affected browsers and shield the system from malware.