Do you know what Your Email Accounts Toolbar is?
It is possible that you see a new featured website like Your Email Accounts Toolbar upon opening your browser and you have no idea how it has got there. Unfortunately, this new tool from Polarity Technologies Ltd. can slither onto your system even if you do not plan installing it. We have seen dozens of clones emerging in this family in the past months, including Search.hmylocaltransit.co and Search.searchtzc.com. These search pages can be perfectly identical clones of each other or very similar ones, too. Although some malware researchers may consider this threat to be a browser hijacker due to its capabilities, our researchers have categorized it as a potentially unwanted program (PUP). This PUP has been found affecting two of your main browsers: Mozilla Firefox and Google Chrome. Since it may present to you search results that could contain potentially unsafe links and affiliated ads, we advise you to remove Your Email Accounts Toolbar from your computer right away.
If you used official channels to install this useless PUP, you had to either visit its official page, youremailaccounts.com, or its Chrome web store, chrome.google.com/webstore/detail/your-eamil-accounts/eikjkhmeningahlmfmiikphcblejkhoe. The only advantage in these cases is that you would only install one potentially harmful extension. However, even statistics show that there have been only a few users installing it this way. This leads us to the bigger system security issue, which will hopefully change your mind to act and delete Your Email Accounts Toolbar from your PC.
The bad news is that this PUP has been found spreading in questionable ways as well. This means that you can install it even without wanting to or realizing. Let us say, you are presented with a pop-up message on a questionable website claiming that you need to update your software or install an extension to be able to content on the page (e.g., streaming videos). If you are not an experienced user, you may fall for this trick and end up installing this PUP. What is even worse, you can drop a whole package of threats when clicking on such unsafe third-party advertisements (banner and pop-up). This can also happen when you are introduced to such ads generated by adware infections hiding on your system or when you download free software from fishy torrent sites. All in all, it would be wise to scan your PC with a trustworthy online malware scanner after you delete Your Email Accounts Toolbar.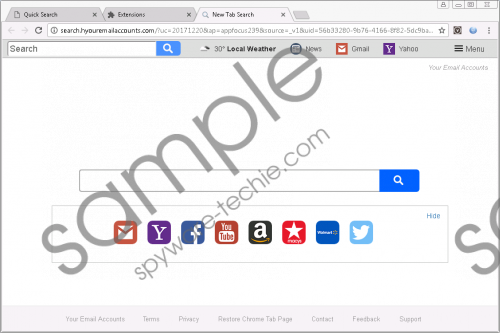 Your Email Accounts Toolbar screenshot
Scroll down for full removal instructions
First of all, this toolbar featuring search website is the last thing you need in your browsers. It has no use or benefit for you at all; nothing you could not easily accomplish in other ways, e.g., by bookmarking pages you tend to visit frequently. This PUP offers you easy access to your e-mail accounts, such as Yahoo Mail and Gmail as well as other popular sites like Facebook. While these links may work just fine and safely, the search engine itself cannot be trusted. Unfortunately, this search page redirects your searches to a possibly manipulated Yahoo search results page where you could be exposed to unsafe ads and links. This is the main reason why we suggest that you remove Your Email Accounts Toolbar from your PC. Clicking on such content could lead to infecting your system with more serious threats or losing money because of online scams.
Finally, it is time to talk about solutions. While it may be an easy way to put an end to this PUP to remove the extension from the affected browsers, we believe that it could be more effective if you reset your browsers. The reason is simple: There could be other malware threats that may be related to your browsers. Please also note that there may be yet other threats hiding on your system that may need advanced knowledge of IT to detect and eliminate. Thus, if you want to do a decent job at cleaning your system and protecting it from future threats either, we recommend that you install a reliable anti-malware tool, such as SpyHunter.
Remove Your Email Accounts Toolbar from browsers
Google Chrome
Tap Alt+F and select Settings.
Click Advanced at the bottom.
Click Reset at the bottom.
In the pop-up, press Reset.
Mozilla Firefox
Tap Alt+H and select Troubleshooting information.
Press Refresh Firefox.
Press Refresh Firefox in the pop-up.
In non-techie terms:
Your Email Accounts Toolbar is a new potentially unwanted application from the "good old" Polarity Technologies team. This time you may find this search page in your Google Chrome and Mozilla Firefox browsers offering you quick links to your major e-mail providers (Gmail and Yahoo). If you are a more experienced user, you know that you do not need a browser extension for having your preferred pages one click away; you simply need to bookmark them, which is a basic function for all browsers. Unfortunately, this tool may slither onto your system in questionable ways like software bundles containing malware infections. This search page can expose you to unreliable third-party advertisements and sponsored links that may pose a threat to your system security. This is why we advise you to install a reliable anti-malware program and remove Your Email Accounts Toolbar as soon as you can.