Do you know what **Your Computer has been blocked** +1-(888)941-3234 is?
If you are redirected to a page informing you that your PC is blocked, you might be a victim of the **Your Computer has been blocked** +1-(888)941-3234 scam. Obviously, you can recognize this scam by two main features, which are the warning indicating the lockdown of the computer and the number attached to the page urging you to call for help. Obviously, if you encounter this fake warning, you have to close it down. Unfortunately, in some cases, it will be impossible to close the browser via which the warning is introduced to you. In this case, you might be fooled into thinking that your PC is truly locked, and that is meant to push you into calling the fake helpline number. Whatever you do, do not call this number. If you are not sure why this is dangerous, and you want to learn how to delete **Your Computer has been blocked** +1-(888)941-3234-related malware, please continue reading.
When the **Your Computer has been blocked** +1-(888)941-3234 warning appears, most users close the browser or the webpage representing it. According to our research, securityalertwarning.online is the webpage that will be used to deliver the warning. If you cannot get rid of the warning in a regular manner, you might have to terminate the affected browser's process via the Task Manager, which is very easy to do. All in all, if you were redirected to a malicious page representing a scam, you need to be worried not only about the scam but also about the malware that must have invaded your operating system. The chances are that your browsers were corrupted by the Asearch.online browser hijacker that might be installed without your permission when you download freeware. If this malicious threat manages to slither in, you might be redirected to various malicious pages representing devious scams. Our researchers warn that the +1-(888)941-3234 number could also be attached to different scams. Therefore, we advise scanning the PC first to identify which malware you need to remove.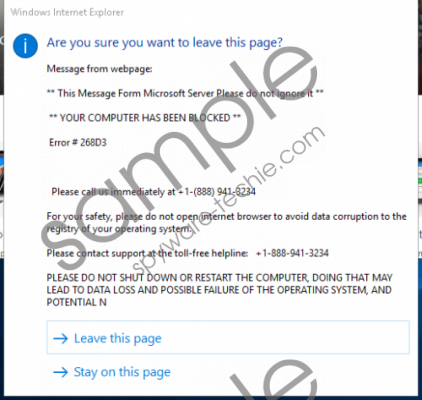 **Your Computer has been blocked** +1-(888)941-3234 screenshot
Scroll down for full removal instructions
The main purpose of the **Your Computer has been blocked** +1-(888)941-3234 scam is to convince you that you are in trouble and that you need help. The page representing this scam will introduce you to a message indicating that your computer was locked due to safety reasons and to prevent data corruption. It is also stated that shutting down or restarting the computer could result in data loss and other problems. Obviously, these statements are meant to scare you into calling an alleged helpline number that, of course, represents schemers. If you call this number, you might be tricked into disclosing sensitive information, which might lead to identity theft and serious virtual security problems. Due to this, we do not recommend calling +1-(888)941-3234 at any point. What you should do is scan your PC to figure out which malware needs to be deleted from your computer. If you are dealing with the Asearch.online hijacker, we can show you how to delete it from your PC, after which, the **Your Computer has been blocked** +1-(888)941-3234 scam will be disabled as well.
If you are dealing with a browser hijacker, you can reset your browsers to get rid of it. The victims of Asearch.online might also need to delete a malicious folder in the C:\Windows directory. Look for a folder whose name is the combination of your computer's name and random numbers. If you are dealing with different kinds of infections, you need to research them to learn how to eliminate them. Obviously, we recommend implementing anti-malware software, in which case you do not need to spend your free time analyzing and eliminating threats yourself. On top of that, if you employ anti-malware software now, malware will not attack your operating system again in the future.
How to reset browsers
N.B. These instructions will help you remove **Your Computer has been blocked** +1-(888)941-3234 only if Asearch.online is the culprit, and if you delete this hijacker's folder under C:\Windows first.
Mozilla Firefox
Open the browser and tap Alt+H.
Select Troubleshooting information.
Click Refresh Firefox and confirm your choice.
Internet Explorer
Open the browser and tap Alt+T.
Select Internet options and then click the Advanced tab.
Click Reset and mark the Delete personal settings box.
Click Reset again to confirm the reset.
Google Chrome
Open the browser and tap Alt+F.
Select Settings and click Show advanced settings at the bottom of the menu.
Scroll down and click Reset settings.
Confirm your choice to reset the browser.
In non-techie terms:
**Your Computer has been blocked** +1-(888)941-3234 is a warning message that is linked to a malicious scam. In most cases, users are redirected to a page representing this fake security warning, and the redirecting is initiated by malicious software. Obviously, this is the software that you need to delete from your operating system. If Asearch.online is the infection responsible for your exposure to this scam, you can easily delete it by erasing the malicious files of this threat and resetting your browsers. If you need our assistance when getting rid of malware and protecting yourself against scams, you can start a conversation in the comments section below.