Do you know what Yoga New Tab is?
You should think twice before you install the add-on called Yoga New Tab. This add-on is represented by mystart.com, and it appears that it could be used for the representation of third-party content. This is why it is sometimes classified as an advertising-supported program. Our research team classifies it as a potentially unwanted program (shortly, "PUP") because it can showcase advertisements, as well record information about you. If you want to delete Yoga New Tab as soon as possible, you can find the removal guide below. However, we recommend reading this report, especially if the add-on came bundled with other suspicious programs. Note that a comments section is presented below. If you have questions and you want to discuss things regarding the PUP, you can add a comment.
Have you downloaded Yoga New Tab because it allows you to customize your New Tab page? The only official information regarding the extension can be found on the Chrome web store page representing the installer. According to the information, you can adjust your search settings, as well as add or remove different widgets (time, date, weather, to do list, history, etc.). Of course, the most prominent feature of this extension is the wallpapers representing different yoga poses, and that is what makes Yoga New Tab unique. In general, the information represented via the Chrome web store is not misleading, and you get what you expect. However, you are not introduced to privacy policies or other important statements, which makes the extension quite suspicious and unpredictable. Needless to say, if you do not feel like you can trust a program, you should delete it without any hesitation.
Yoga New Tab represents www.mystart.com/new-tab/olgyoga/. When you install the add-on, this is the page that you will see set as your New Tab page. As promised, it showcases various widgets that you can add or remove using the menu on the right. The menu also allows you to choose which search tool you want to use (the only options are Google Search or Yahoo Search). Unfortunately, you should not browse the web using the search tool introduced to you via the suspicious page. This is because sponsored content and ads are likely to be added to the normal search results. Since it is not known which parties can be showcasing their offers, there is a possibility that the content shown to you could be misleading and unreliable. In case you have interacted with sponsored content already, think if you might have shared private information, installed suspicious software, and jeopardized your virtual security.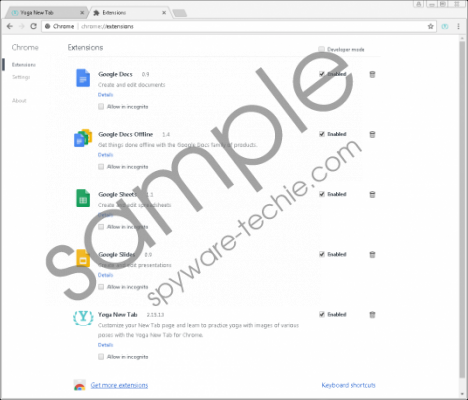 Yoga New Tab screenshot
Scroll down for full removal instructions
There is no doubt that Yoga New Tab offers beneficial survives, but, at the same time, it is highly suspicious, and there is a possibility that interacting with this potentially unwanted program is risky. If you do not want to take any risks, removing Yoga New Tab might be the best choice for you. Although you can eliminate this unwanted extension via the chrome://extensions menu with a click of a button, we advise resetting your Google Chrome browser instead. Do not panic if you have no idea how to do that because the guide below demonstrates the process one step at a time. We advise resetting Chrome because that will help you get rid of the data-trackers that the extension is likely to have placed as well.
Delete Yoga New Tab from Chrome
Launch Google Chrome.
Simultaneously tap keys Alt+F.
In the menu on the left select Settings.
Click Show advanced settings at the bottom of the menu.
Scroll down and then click Reset settings.
Click the Reset button.
In non-techie terms:
If you practice yoga, but you need inspiration, Yoga New Tab might seem like a great tool, but, in reality, you have to be very cautious with this potentially unwanted program. As soon as you install it onto your PC, it will start spying on you. Also, the search tool it represents could be used to expose you to potentially unreliable sponsored content. Needless to say, if you take things into consideration, the add-on does not look all that great. Our research team recommends resetting the browser to have Yoga New Tab removed, but if other infections are running on your PC, using anti-malware software might best. If you want to discuss the potentially unwanted program and its elimination further, leave a comment below.