Do you know what Ykcol Ransomware is?
Ykcol Ransomware can sneak onto your system behind your back and take all your important personal files hostage. Of course, the main reason is not the devastation of your files but to extort money from you so that you can get your files back. Well, at least, you are led to believe that you will receive the decryption key and software if you transfer the demanded ransom fee. However, it rarely happens that such cyber criminals actually send anything to victims other than more serious infections. This is one of the reasons why we do not ever advise anyone to pay. Furthermore, it is possible that technical issues emerge and the connection between your computer and the remote server is lost. This would again mean that you will not get your decryption key because there is no way to recover it. Also, you should consider that sending money to these crooks would mean that you support cybercrime. All in all, our researchers think that it is best to act immediately and remove Ykcol Ransomware from your PC. Please read our full report to learn more about this dangerous malware infection and how you could avoid similar ones in the future.
In order for you to let this beast onto your system, you need to receive a spam e-mail that you open and view its attachment. The attached file can be a 7Zip file that contains a .vbs file that activates the download of the malicious executable file in the background once you unzip this archive. This spam can make you believe that it is important and urgent for you to read it. However, when you open it, you will not really have any specific information to help you solve the mystery of the alleged unsettled invoice, which is probably one of the most often used matters for such a spam. You are usually instructed to see the attached file for more details or you may also be offered a link to a file storage place to download the supposed invoice or document in question. You need to keep in mind that you cannot remove Ykcol Ransomware, and any other fully functioning ransomware programs for that matter, without the serious consequences of losing your files. Nevertheless, there is no other way for you to restore your system.
If you do not want to infect your PC with similar dangerous threats, it is also important that you keep your browsers and drivers always up-to-date. Cyber criminals can use so-called Exploit Kits to create malicious webpages that can drop such an infection onto your machine the moment they load in your browser. You can easily land on such a malicious page if you click on questionable third-party ads and links on suspicious websites or offered by malware hiding on your system. Having to delete Ykcol Ransomware from your system can have a serious price for you. This is why you should do everything in your power to avoid such an infection.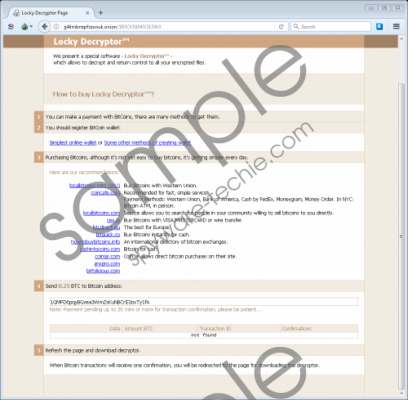 Ykcol Ransomware screenshot
Scroll down for full removal instructions
Our researchers say that this ransomware program is indeed a new version of the notorious and successful Locky Ransomware. This infection uses the RSA-2048 and AES-128 encryption algorithms to make sure to create a decryption key that cannot be hacked. This malware program targets the usual personal files (images, videos, audios, documents, databases, and so on) and encrypts them in a short time so that you cannot even stop the malicious process while damaging your files. Your file names are changed and a new extension (".ykcol") is added; thus, your files may look: "1R3CK50J-WX31-76KX-0FF2943B-B6A0A941AC64.ykcol" or anything similar.
This threat places a .bmp file ("ykcol.bmp") on your desktop and uses it to replace your background image as soon as the damage is done. This is the ransom note, which is also displayed by opening the other file dropped in each infected directory, "ykcol-abc9.htm," which has a random code ("abc9") in its name that can be different for all victims. You have to pay 0.25 Bitcoins to get the promised decryption key and tool, which is around 1,077 US dollars worth at the time of writing. This is a rather high fee in fact for a bunch of old files you may store on your system. But this is not the only reason why we do not advise you to pay, as we have already explained. We recommend that you do not hesitate to delete Ykcol Ransomware from your PC.
We have prepared the necessary instructions for you below if you want to take matters into your own hands and remove Ykcol Ransomware from your computer ASAP. Since you may have an issue trying to identify the main malicious files, it would be more comfortable and effective for you to download and use a reliable anti-malware application, such as SpyHunter. Please remember that it is essential that you update all your programs regularly to stop cyber crooks from exploiting older software bugs to gain access to your system and plan all kinds of malicious threats.
Remove Ykcol Ransomware from Windows
Open your File Explorer by tapping Win+E.
Delete all suspicious files that you may have downloaded from e-mails lately. Check all your default and selected download folders (Desktop, Downloads, and %Temp%).
Delete "ykcol.bmp" from your desktop and every ransom note files ("ykcol-****.htm") from the infected folders.
Replace your desktop wallpaper.
Empty your Recycle Bin and reboot your computer.
In non-techie terms:
Ykcol Ransomware can cause great devastation on your system if you do not have a backup of your personal files. This vicious program can encrypt all files that could be worth the ransom fee for you. These criminals demand over one thousand dollars worth of Bitcoins in exchange for the decryption key and the software that can recover your files. The sad truth is that there is no other way for you to restore the encrypted files. Still, we do not believe that it is really on option to send money to cyber criminals supporting their vicious operations. Of course, it is always your decision to make whether your files are worth the risk of paying these crooks. Our researchers say that it is important that you remove Ykcol Ransomware if you really want to save your operating system and use your computer again securely. It may be time for you to think about installing professional anti-malware software to defend your PC against all possible threats.