Do you know what Yellow Adblocker is?
Yellow Adblocker is yet another adware application that uses dubious marketing strategies in order to lure users into installing an utterly useless and potentially harmful application. If it is found present on your operating system, Yellow Adblocker should be deleted without hesitation. The slogans on the official website of Yellow Adblocker state that this application will stop all annoying adverts and pop-ups while you are browsing the web. It certainly sounds good. Unfortunately, it will do exactly the opposite. As long as Yellow Adblocker will be present on your PC your web browser will be flooded with tons of third-party adverts and annoying pop-ups. If you wish to avoid potential exposure of dangerous web content and want to restore the normal functionality of your browser, removal of Yellow Adblocker is the only way to go. Malware experts at Spyware-Techie.com have prepared a removal guide that is easy to use and will help you delete Yellow Adblocker with no problems.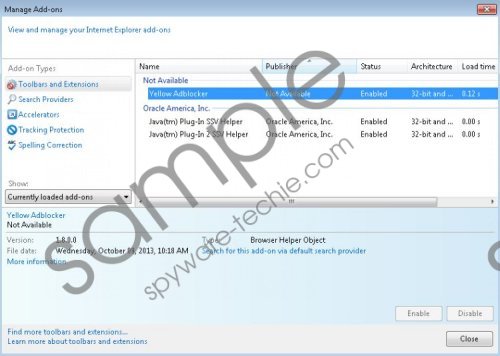 Yellow Adblocker screenshot
Scroll down for full removal instructions
In most cases Yellow Adblocker is distributed via dubious installers such as InstallRex, Vittalia, or Amonetize. These installers are usually obtained on suspicious third-party download websites. In order to reduce the risk factor of infecting your PC with a potentially dangerous application, you should avoid such dubious download websites at all times. You should also always choose advanced installation as it provides maximum information about the setup processes. Also a reliable antimalware tool should be always up and running on your system if you wish to avoid any infection. All of this will make your system almost unbreakable and you will not need to waste time on various removal processes.
Just like a lot of adware applications nowadays Yellow Adblocker relies on browser extensions in order to display adverts while you are browsing the web. Thus, tons of ads within your browser are a major indication that Yellow Adblocker is present on your system. It is important to note that the adverts displayed are actually provided via various adware servers; and if there is one thing known about these servers is that they are not famous for their legitimacy. It is well established that adware serves are closely associated with malware distribution and thus, it is not a least bit shocking that Yellow Adblocker could expose you to some of the most dangerous web content out there.
The removal of Yellow Adblocker is essential if you want to avoid any further virtual security problems. Fortunately, removal of Yellow Adblocker via Control Panel will do the trick and the annoying and potentially dangerous activities will stop. Unfortunately, if the infection was removed incompletely some traces of it could be quite detrimental as well. For instance just a few files could be used to restore Yellow Adblocker without any warning. That is why you should check your system for potential leftovers.
How to delete Yellow Adblocker from your operating system
How to remove Yellow Adblocker from Windows 8
Navigate the mouse cursor to the bottom right corner of the screen.
Now select Settings in the Charm bar.
Then click Control Panel.
Now select Uninstall a program.
Select Yellow Adblocker and click Uninstall.
Remove Yellow Adblocker from Windows 7 and Windows Vista
Tap the Windows+R keys on your keyboard.
Now type Control Panel into the search box.
Now tap Enter.
Select Uninstall a program.
Double-click Yellow Adblocker.
Confirm that you want to remove Yellow Adblocker.
Remove Yellow Adblocker from Windows XP
Tap the Windows key on your keyboard.
Now select Control Panel.
Then click Add or Remove Programs.
Select Yellow Adblocker and click Remove.
In non-techie terms:
If you want to make sure that every bit of Yellow Adblocker was removed and you do not feel comfortable conducting an analysis of your system for potential leftover by yourself, you should follow the instructions below.