Do you know what YeaPlayer is?
YeaPlayer is a media player that has been categorized as a potentially unwanted program (PUP) due to some traits it shows. While the application itself is not harmful to your operating system, unfortunately, it installs several adware programs that, however, might expose you to certain threats. Most users find adware very annoying, but a lot of them do not know the hidden danger in the third-party ads they display. We would like to give you an idea about what these might be, and if you decide to remove YeaPlayer, how you can do that.
YeaPlayer is very similar to MagnoPlayer, which was also labeled as a PUP, but there is definitely one big difference: YeaPlayer's official website seems to be temporarily unavailable and not working. So even if you wanted to download it, you cannot anymore or at least right now, so it looks. How can users get this application then? It is possible that it enters your system bundled with other programs. We have discovered that this player, actually, installs adware applications, including MyPCBackup, SpeedUpMyPC, and Searchult, during its installation process. What might be more dangerous though, if YeaPlayer is distributed with more serious malware. However, our researchers have no information on that right now. What is worrying, though, that this PUP can also download and install further adware apps silently, in the background, when it is running. And it makes sure to run as it automatically starts up with Windows. It is important to understand the threat you might take by keeping this program on your computer and letting it spam you with all kinds of third-party advertisements.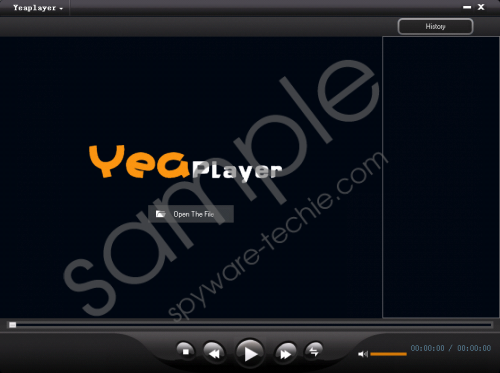 YeaPlayer screenshot
Scroll down for full removal instructions
As a matter of fact, the disruption and annoyance these ads might cause is really the smallest issue here. One thing about third-party ads is that nobody can warrant the legitimacy and reliability of the linked websites. What is worse is that there are schemers who can take advantage of the vulnerabilities of adware applications and inject their dubious links into the ads so that you end up on their compromised websites. You might, for example, land on a fake online store where you might be tricked into providing your banking details. Both your privacy and your bank account might suffer from such a scenario. Keeping YeaPlayer on your computer might not be the best idea if your system's security and privacy matter to you. That is why we suggest that you delete this media player along with all the related applications.
If you see now why it might be better to get rid of YeaPlayer, you will be relieved to know that it is very easy to uninstall the application itself. Since it comes with an uninstaller, you can simply go to Control Panel and remove it from the installed programs list. Keep in mind, though, that there could be remaining components that need to be addressed as well, if you want to clean your system. We advise you to use a reputable malware removal tool, which can solve all your issues at the click of a button, practically. But if you still have questions, please leave us a comment below.
How to remove YeaPlayer from Windows
Windows 8 & Windows 8.1
Tap Win+R and type in control panel. Click OK.
Select Control Panel and click Uninstall a program.
Click on the application and click Uninstall.
Windows Vista & Windows 7
Go to the Start menu and select Control Panel.
Select Uninstall a program.
Click on the app and click Uninstall.
Windows XP
Open the Start menu and select Control Panel.
Click Add or Remove Programs.
Select the application and click Remove.
In non-techie terms:
YeaPlayer has been classified as a potentially unwanted program by our research team. Although this media player seems legitimate, it installs a couple of adware applications, which might put your system at risk by the potentially harmful third-party ads they might display. If you care about your virtual safety, you might want to remove YeaPlayer and all other apps it installs from your system. If you do not want to do this manually, you have the option of installing a reliable antimalware tool that can handle all your security related issues automatically.