Do you know what Yeabests.cc is?
Yeabests.cc may look like a legitimate search engine, but we assure you that it is not. Our analysts have classified it as a browser hijacker and, thus, recommend that you remove it because it is distributed by injecting it into your browser without your knowledge or authorization . The reason for secretly injecting it into your browser is, of course, making money. This hijacker's search results are bound to have promotional links and ads added to them. Thus, your computer's security can become compromised, and, for this reason, we advocate for getting rid of this infection. There is a problem, however. Yeabests.cc has been configured to modify your web browser's shortcut's Target line which means that you cannot simply replace the homepage address. For more information, please read this whole article.
Our malware researchers say that this hijacker has been active since 26 November 2015, so it has been around for some time now. It was developed by a group of malware developers based in China, but its distribution is not limited to this country. Our research has revealed that this hijacker's victims are mostly based in Brazil of all places. Also, this hijacker is quite popular in Japan, Indonesia, India, and Russia.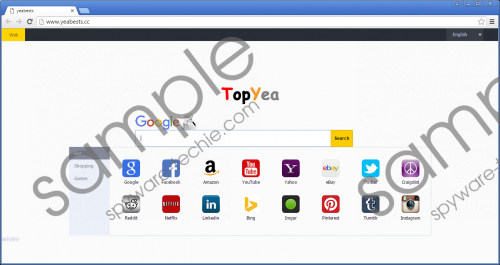 Yeabests.cc screenshot
Scroll down for full removal instructions
Our malware researchers have also revealed that unlike most browser hijackers that are distributed using malicious software bundles and downloaders, this one is dropped by a Trojan. Now, this does not mean that the Trojan performs some additional malicious activity. Researchers have suggested that it comes with a Trojan dedicated to performing this one action — injecting the configurations for your web browser and modifying Windows Registry settings. The Trojan itself is most likely distributed via malicious email attachments that contain self-extracting .rar archives.
Once this browser hijacker has successfully infected your computer, you will be forced to use it as it will load Yeabests.cc each time you open your web browser. Note that this hijacker is compatible with Internet Explorer, Google Chrome, and Mozilla Firefox. You might find it odd, but this hijacker uses a Google Custom Search engine to process the search queries. As a result, you will get the same results as with using the regular Google.com search engine, but here is the twist: Yeabests.cc will inject additional promotional links and advertisements into the search results. These additional promotions can cause you much inconvenience as they might turn out to be scam websites and websites that host downloads of malicious and potentially unwanted software.
Therefore, this browser hijacker can get your computer infected with malicious software which can negatively affect your computer's performance. Your PC might start having real and even fake errors generated by some potentially unwanted programs that pose as PC optimization tools and want to trick you into purchasing them to fix the problems. Scam website on the other hand might trick you into providing sensitive information or involve you in a money extorting scheme. In short, anything can happen Therefore, it is in your best interest to get rid of this hijacker.
You might also be interested to know that this hijacker will collect certain information about you which includes browser browsing and search history, IP address, device type, approximate geographical location, and so on. It will also collect information about your browsing preferences and personal interests to provide you with more relevant advertising. However, the advertising campaign can be dishonest and deceiving, so we do not count on this hijacker to provide you with legitimate promotions that would actually interest you.
Now that you know everything there is to know about Yeabests.cc, let us move on to how you can delete it from your browser. This process requires a bit of work, but there is nothing you could not do on your own. In short, you will have to reset your browser's settings to default, fix the browser's Target line, and delete one registry key. To achieve this, you will have to use the removal instructions below. However, in the event this hijacker is not removed we recommend that you use our featured antimalware program called SpyHunter as it is fully capable of eradicating it and protecting your PC from future infections from all types of malware.
Yeabests.cc removal guide
Microsoft Internet Explorer
Open your browser and press Alt+T.
Select Internet Options, select the Advanced tab.
Click Reset and check the checkbox.
Click Reset.
Mozilla Firefox
Open your browser, and simultaneously press Alt+H.
Select Troubleshooting information.
Click Refresh Firefox.
In the dialog box, click Refresh Firefox.
Google Chrome
Open your browser.
Simultaneously press Alt+F.
Select Settings.
Click Show advanced settings.
Select Reset browser settings.
Fix the modifications made to the browser's Target line
Right-click on your (Internet Explorer, Chrome, Firefox) browser's shortcut.
Select Properties.
Open the Shortcut tab.
Delete Yeabests.cc's address from the Target line.
Click OK.
Delete the leftover registry keys
Press Windows+R keys and enter regedit.
Click the OK button.
Locate and delete the following registry key.
HKEY_LOCAL_MACHINE\SOFTWARE\Microsoft\Windows\CurrentVersion\Run\HomePageHelper (32-bit version of Windows)
HKEY_LOCAL_MACHINE\SOFTWARE\Wow6432Node\Microsoft\Windows\CurrentVersion\Run\HomePageHelper (64-bit version of Windows)
In non-techie terms:
Yeabests.cc is a browser hijacker whose job is to hijack your browser's homepage and subject you to its search results full of promotional links of unverifiable legitimacy. For this reason, we regard it as unsafe as your computer can become infected with malware. Also, This hijacker as the ability to collect information about you and you it to tailor its promotional campaign, but it just lack honesty and, therefore, we recommend that you remove it as soon as possible.