Do you know what Yawtix is?
Yawtix is an adware program that gets installed on your browser as an add-on. Its main tag line says "Get results that shines with Yawtix." It means that this program wants to be considered a reliable browser add-on that enhances your online search experience. Nevertheless, you should not be so hasty as to trust this program because it might as well be exploited by malignant third parties. To protect your computer from potential harm, you ought to remove Yawtix right now. What is more, it does not stop there with one unwanted program removal because you are bound to have some more.
The reason we are saying that is the fact that Yawtix ALWAYS travels bundled with freeware. It is impossible to download the application at Yawtix.com. All adware programs from SuperWeb family do not have direct download links. ResultsBay, Laflurla, loffinam and other similar apps exhibit the same features as well – all of them are bundled with freeware, all of them promise to improve your browsing experience, and all of them lie. Rather than improving your web browsing, they disrupt it. Yawtix and other apps from the same group display a lot of annoying advertisements and commercial pop-ups.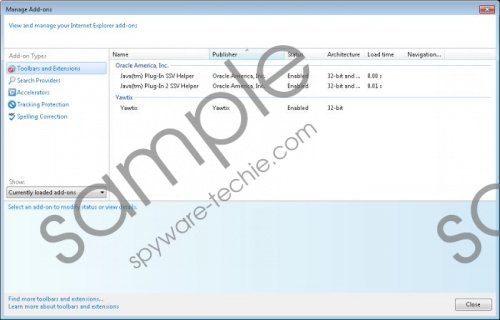 Yawtix screenshot
Scroll down for full removal instructions
Most of the time, pop-ups appear on your screen when you access online shopping sites, for example, Amazon, BestBuy or eBay. It makes an impression that Yawtix can provide you with relevant information and good online deals. However, this application does not review the third-party content that gets embedded into the pop-up ads. So you can never know whether you click on a safe pop-up or not. For all its worth, you could end up being redirected to dangerous websites that are involved in online marketing schemes and, perhaps, even malware distribution.
However, that does not mean that Yawtix is a dangerous computer infection. As it has been mentioned above, this program comes bundled with freeware. It means that users install the program onto their computers themselves. You can avoid installing Yawtix if you stop downloading unfamiliar programs from unknown websites. Also, you should never lick random pop-ups that urge you to download media player update or Flash player upgrade.
In other words, the best way to protect your PC from harm is to remove Yawtix right now. You can do it by opening Control Panel and uninstall the application manually. Nevertheless, after manual removal you should check your system once more by running a full PC scan. There might be some potentially unwanted programs left behind, so you have to get rid of them as well.
How to remove Yawtix
Windows 8
Move mouse cursor to the bottom right of the screen.
Click Settings on Charm bar and go to Control Panel.
Select Uninstall a program and remove Yawtix.
Windows Vista & Windows 7
Open Start menu and select Control panel.
Go to Uninstall a program and remove Yawtix.
Windows XP
Press Windows button and navigate to Control Panel.
Select Add or remove programs and uninstall Yawtix.
You may also want to try out a more thorough set of instructions below this description. If you encounter any problems while removing Yawtix, you can leave us a question in the comment box.
In non-techie terms:
Yawtix is an annoying browser add-on that displays a lot of random pop-ups. These pop-ups could prove to be dangerous, so you need to get rid of this application as soon as possible, in order to protect your PC from potential threats.