Do you know what xVidly is?
xVidly is a potentially unwanted program and a browser plugin that allows you to manage various downloads, but it is not recommended to have this application on your PC, because it resists being removed and even employs shady techniques when it comes to installation. You should remove xVidly from your computer right now, because in the long run the application could be responsible for a number of security threats arriving at your system.
One of the most suspicious things about xVidly is that it arrives with a bunch of other programs and you cannot choose NOT to install them once you click the Accept button. Depending on where you have downloaded xVidly from, the application may come bundled with Conduit Search, PriceGong, Lyrics Shout, Value Apps and a lot of other potentially unwanted applications that only slow down your system and interfere with your web browsing.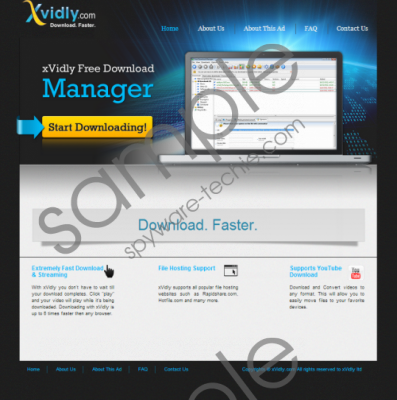 xVidly screenshot
Scroll down for full removal instructions
Hence, it is highly recommended to remove xVidly from your PC if you do not want any additional software installed. Any problem that employs such aggressive promotion tactics should be terminated. Not to mention that almost all of the programs that come with xVidly (including the extension itself) make use of cookies to track your web browsing habits, and if this information gets leaked to a third party, you may be redirected to commercial websites, or even domains that host malware.
Having xVidly on your PC is definitely not a very pleasant experience and the sooner to terminate the application the better. Do not forget that this application might be exploited by cyber criminals which would result in a personal data leak. Therefore, follow the instructions below and delete xVidly from your computer as soon as possible, along with all the other additional programs you do not need.
How to remove undesirable programs
Windows 8
Move mouse cursor to the bottom right corner of the screen.
Click Settings and select Control Panel.
Open Uninstall a program and remove undesirable applications.
Windows Vista & Windows 7
Open Start menu and click Control Panel.
Go to Uninstall a program and remove unwanted applications.
Windows XP
Open Start menu and go to Control Panel.
Select Add or remove programs and uninstall undesirable applications.
How to reset your browser settings
Internet Explorer
Press Alt+X and click Internet options.
Select Advanced tab and press Reset.
Select Delete personal settings and press Reset again.
Once the reset is complete, press Close and OK.
Mozilla Firefox
Click Firefox button and navigate to Help.
Select Troubleshooting information and click Reset Firefox.
Press Reset Firefox again and once the reset is complete, press Finish.
Google Chrome
Press Alt+F and click Tools.
Go to Extensions and remove unwanted add-ons.
Click Settings on the left and mark Open a specific page or set of pages.
Click Set pages and change your home page address. Press OK.
Select Manage search engines under Search.
Set a new default search engine, and remove unwanted search engine. Click Done.
After manual removal you should try scanning your PC with SpyHunter free scanner in order to check whether you have any unwanted residual files left. Do all it takes to protect your PC from unreliable software.
In non-techie terms: xVidly is a browser application that is supposed to improve your downloading experience, but it comes with an entire number of security risks that cannot be overlooked. Hence, you need to remove xVidly from your system ASAP.
Aliases: