Do you know what XP Defender 2013 is?
If you have never come across fake rogue anti-spyware programs, XP Defender 2013 is one of them. This fraudulent tool infects the computer when the user is visiting compromised websites or scanning the PC online. Various browser advertisements may also be infected with this violent threat; therefore close every pop-up advertisement to avoid possible problems.
When the rogue gets into the system, it introduces many changes into the computer's processing in an attempt to make the user acquire its fake full version. For example, it can disable executable files and internet browsers to constrain you from using spyware removal tools. Hence, the slowdown of the system is a very common symptom, which is caused because of shutdown of some process or programs relevant to the performance of the system.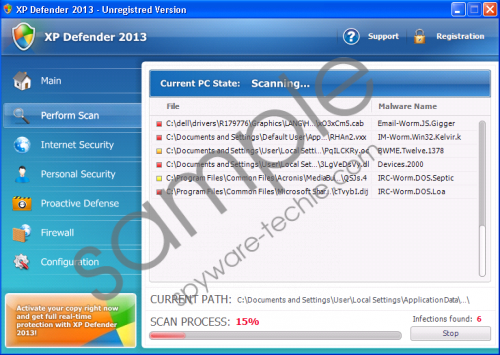 XP Defender 2013 screenshot
Scroll down for full removal instructions
Besides the malfunctions mentioned, the fraudulent program simulates functions that are typical to every anti-virus tool. As you may guess, XP Defender 2013 supposedly scans the system and presents multiple threats. Pay not attention to those bogus Trojans, tracking cookies and other infections, but remove the very rogue for your PC. Regarding the characteristics of this unwanted program, it also presents misleading security warnings, which encourage the user to buy the full version that, according to the messages, is able to remove malware.
The following notifications should help you recognize XP Defender 2013 easily:
Security breach!
Beware! Spyware infection was found. Your system security is at risk. Private information may get stolen, and your PC activity may get monitored. Click for an anti-spyware scan

Computer security is at risk! Your PC is still under malware attack. Dangerous programs were found to be running in the background. System
crash and identity theft are likely. Remove malware now and get real time intrusion protection?

System hijack!
System security threat was detected. Viruses and/or spyware may be damaging your system now. Prevent infection and data loss or stealing by running a free security scan
If you want to disable the pop-ups displayed by the rogue and restore the settings of the system, register the threat with this key: 3425-814615-3990. After the registration, you will be able to download a spyware removal tool and remove XP Defender 2013 without being disturbed by the simulated alert messages.
Now, you have two options: you can delete the infection either automatically or manually. As the manual removal should be carried out only by experienced users or technicians, we advise you to use a powerful anti-spyware tool in order to remove XP Defender 2013 successfully. All necessary procedure will be done for you by the tool, and you will not have to bother about any other issues related to the rogue.
In non-techie terms:
Remove XP Defender 2013 as soon as you can if you want to protect your money and sensitive data, because this bogus tool is designed to make you pay money for its non-functional full version, which will never remove threats or protect your computer.
Aliases: XP Defender.