Do you know what XP Antivirus Plus 2013 is?
If you are thinking of acquiring the licensed version of XP Antivirus Plus 2013, you are seriously misled because this tool is a rogue anti-spyware program which presents false positives that are expected to encourage you to give your money up. If you do not need nonfunctional products, why do you want to spend your money on the fake AV? The fact that your computer is infected with XP Antivirus Plus 2013 proves that you need a reliable anti-spyware tool, which you can download by clicking on the button below.
Do not hesitate to remove XP Antivirus Plus 2013 because it is a worthless tool as well as its predecessors. Other rogue tools which are associated with the threat in question are XP Defender 2013, XP Antivirus Pro 2013, XP Security 2013 and others. They cannot be trusted because of the same reasons which are their simulated scans and displaying of non-existent infections.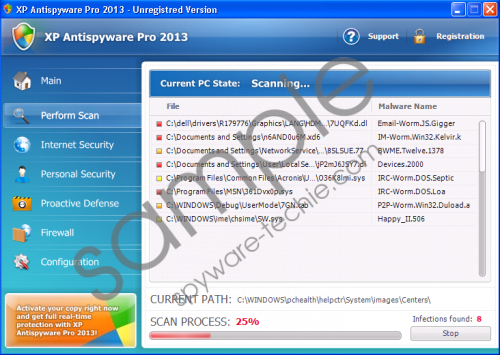 XP Antivirus Plus 2013 screenshot
Scroll down for full removal instructions
For example, you can find such hoax messages:
A registered copy of XP Antivirus Plus 2013 offers a full range of features to keep your system clean and protected. Check the list of benefits and opportunities here below:
Secure online shopping and banking with our identity protection
Scanning links and web pages to make your web experience safe
Automated updates and improvements
Anti-spam and anti-phishing features
Real time protection and online firewall
Secured social networking, downloads, chats and online services

XP Antivirus Plus 2013 has blocked a program from accessing the internet
Pay no attention to the design of the rogue application which looks as if it was created by Microsoft. Cyber criminals want your money, so they created a program similar to the existing ones. The money that you are going to pay for the fake full version will not help you remove those viruses that are presented by XP Antivirus Plus 2013.
What will eliminate those scan windows and annoying pop-ups is SpyHunter, which you should download right know if you want to fix your computer. After the removal of the infection, the Internet speed will increase as well as the speed of the PC. Moreover, the tool installed will safeguard the system and terminate the infections that will try to violate your privacy and affect the way the system operates.
In non-techie terms:
XP Antivirus Plus 2013 is a malicious application which can infect the system while you are browsing dubious websites or scanning the PC online. It can also get into the system along with freeware, so be always aware of the possible risk of getting the system infected while you are visiting insecure websites. The aim of the rogue anti-spyware is to make you pay money, so if you have found it on your PC, remove the infection immediately. Do not know how? Download SpyHunter and it will remove the unwanted program for you.
Aliases: