Do you know what XCry Ransomware is?
XCry Ransomware is a ransomware infection that can encrypt your files. Our research team believes that this program hasn't been fully developed yet, but it can still corrupt your files without much difficulty. If you get infected with this program, it is very likely that it will not be possible to restore the corrupted files, and you will have to rely on a file backup. This is one of the many reasons computer security specialists tirelessly emphasize the importance of backing up your files.
Of course, the best way to protect our computers from such infections is to know how these programs spread. Unfortunately, our research team wasn't able to find the exact distribution route XCry Ransomware uses. Nevertheless, it is safe to assume that this ransomware application employs the same distribution routes that are usually used by other programs of similar profile.
The most common ransomware distribution method is spam. The overall success rate of a spam email campaign is relatively low, but it is still big enough to encourage ransomware developers to use it for malware distribution. At the same time, it also means that users can avoid getting infected with XCry Ransomware, and many other dangerous programs. One just needs to be careful and recognize malware distribution patterns.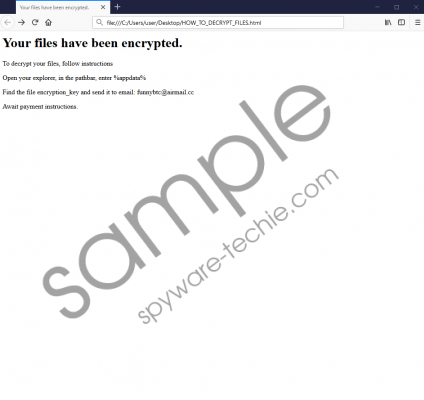 XCry Ransomware screenshot
Scroll down for full removal instructions
Normally, spam email that distributes ransomware has a sense of urgency. It tries to push users into downloading and opening the attached files, saying that the file is extremely important and users have to check it out immediately. Of course, if users scanned a particular file with a security tool, they would be able to apprehend a malicious program beforehand. But it is very seldom that regular users are that careful about the files they download and open on a regular basis.
If we were to tell you more about XCry Ransomware, we have found that this program is coded in the C++ programming language. It doesn't look like the program is closely related to any prevalent ransomware family (like the Hidden Tear ransomware). When this program enters the target system, XCry Ransomware finds all the file types it can encrypt and launches the encryption process. It encrypts most of the file types, although we do know that the program skips the %AppData%, %WinDir%, %ProgramFiles%, and %ProgramFiles(x86)% directories. It means that it only corrupts personal files, while most of your programs and system files remain intact.
It is not surprising because ransomware programs still need the infected systems to operate properly in order to receive the ransom payment. On the other hand, it is very likely that XCry Ransomware cannot process incoming ransom payments because there seems to be a problem with the network programming. The program executes a ping to the 192.0.2.1 IP address, and it checks if local PC responds, sending one packet with a 5000 milliseconds delay. Yet, instead of connecting to its command and control center, it connects to a computer in the local network. Therefore, it means that XCry Ransomware cannot receive the decryption key even if the user transfers the ransom payment.
What's more, XCry Ransomware does not indicate the amount you should pay to receive the decryption key. It only says that your files have been encrypted, and you have to follow the instructions to contact the criminals behind this infection. If you initiate the contact, the scammers behind XCry Ransomware should contact you with payment instructions soon.
Needless to say, you should do nothing of the kind. XCry Ransomware isn't developed well enough to provide you with the way to restore the files even if you were to pay for it. Thus, you need to remove XCry Ransomware, and look for other ways to get your files back.
To remove XCry Ransomware, you will need to remove the Point of Execution that this program creates in Windows Registry. You will also have to delete a few files that this program drops upon the installation. If you find it too challenging, you can delete XCry Ransomware automatically with a security tool of your choice.
You will also have to delete the encrypted file, and then transfer heathy copies back into the clean computer. If you do not have a file backup, you might still find bits and pieces of your files in your inbox or your mobile device, so there's always a way around this seemingly dire situation.
How to Remove XCry Ransomware
Press Ctrl+Shift+Esc and Task Manager will open.
Open the Processes tab and highlight unfamiliar processes.
Click End Process to kill them and close Task Manager.
Remove recently downloaded files from Desktop.
Delete recently downloaded files from the Downloads folder.
Press Win+R and type %Temp%. Click OK.
Remove the recently downloaded files from the directory.
Press Win+R and type regedit. Click OK.
Go to HKEY_CURRENT_USER\Software\Microsoft\Windows\CurrentVersion\Run.
On the right pane, right-click a random-name value in the AppData directory.
Select to delete the value and close Registry Editor.
Press Win+R and type %AppData%. Click OK.
Remove the random-name executable file.
Scan the system with SpyHunter.
In non-techie terms:
XCry Ransomware is a malicious program that can corrupt personal files. It requires the infected user to pay money in order to restore the corrupted files, but paying would not solve anything. You need to remove XCry Ransomware immediately following instructions above or using a powerful antispyware tool. You should also protect your PC from other infections in the future. It requires a reliable antispyware application and a set of safe web browsing habits.