Do you know what Www-mysearch.com is?
Www-mysearch.com is a questionable search engine that might replace your homepage and search engine on all your browsers, including Internet Explorer, Google Chrome, and Mozilla Firefox. It is developed by Goobzo LTD., and it seems that it is targeted at users living in such countries as France and the United States. We are sure that it is exactly like that because Www-mysearch.com search engine travels in a bundle with other applications in these countries mainly. In fact, not all the users open their browsers and see Www-mysearch.com there. It has been observed that some of them also notice a new browser called TheBrowser (classified as a potentially unwanted program (PUP) by our specialists) whose homepage and New Tab page is Www-mysearch.com. At first, it might seem that Www-mysearch.com is not a dangerous search engine. Actually, we cannot call it extremely dangerous either, but there is still a slight possibility that it will put your system into danger one day. Users who want to protect their systems from harm should implement the Www-mysearch.com removal as soon as possible. Unfortunately, some users find this extremely hard – we are going to help them.
Research has shown that Www-mysearch.com itself is powered by Bing. This search engine is not bad; however, there is still a possibility that it has been slightly modified by Goobzo LTD and you will be provided with sponsored search results. Our specialists suspect that third-party ads and links will not only be put among other legitimate search results, but you might also see them on the start page of Www-mysearch.com. Ads which you will see on the main page of Www-mysearch.com advertise games, websites, and software in most cases, whereas those integrated into your search results will be based on the keyword you enter into the search box of Www-mysearch.com. As there is a huge possibility to click on those sponsored links and third-party ads, it means that it is possible to infect the system with malicious software too because you will never know where these third-party ads or links will take you. Yes, you might even be taken to a corrupted web page full of untrustworthy apps. According to our experts, it is also very likely that Www-mysearch.com will record details about you in order to show relevant ads. As we have manage to find out, it is very likely that Www-mysearch.com will touch your search queries and gather other information about your system, e.g. the version of OS installed on PC. Of course, there is still a risk that Www-mysearch.com will violate your privacy by touching sensitive data, so we recommend being very cautious with it.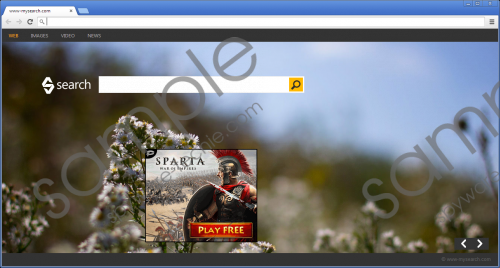 Www-mysearch.com screenshot
Scroll down for full removal instructions
As has already been mentioned, Www-mysearch.com usually installs its own browser TheBrowser. In addition, it installs Search Module and DeskBar (or one of these programs) in order to be able to work properly as well. Therefore, you will see new registry keys in the Registry Editor, for example, HKEY_CURRENT_USER\Software\DeskBar, HKEY_CURRENT_USER\Software\TheBrowser\, HKEY_LOCAL_MACHINE\SOFTWARE\TheBrowser\, and HKEY_LOCAL_MACHINE\SOFTWARE\Microsoft\Tracing\DeskBar_RASAPI32\. Also, it seems that DeskBar will always start together with Windows OS because its Value is added to the HKEY_CURRENT_USER\Software\Microsoft\Windows\CurrentVersion\Run\ registry key. As you have probably understood, Www-mysearch.com will still be active even if you decide not to use it at all. Therefore, it would be smart to get rid of it from the system.
Unfortunately, TheBrowser and DeskBar are not the only applications that will be installed on your system. Research has shown that Www-mysearch.com tends to travel in a bundle with other applications, for example, YTDownloader and ShopperPro. Both applications are considered to be ad-supported programs, so if you do not get rid of them, there is a really huge possibility that you will start seeing commercial advertisements on your screen. Do you want to find out whether or not these applications are installed on your PC? If so, scan your system with the diagnostic scanner. It must be reliable!
If you see the presence of Www-mysearch.com on your Internet Explorer, Google Chrome, or Mozilla Firefox browsers, it will be enough to reset your browsers – instructions that will help you to do that are provided below the article. You will need to remove TheBrowser, Search Module and/or DeskBar if you see its presence on another browser, e.g. TheBrowser. All these applications can be erased via Control Panel, so it should not be difficult to do that. If you do not want to eliminate Www-mysearch.com manually, you can use SpyHunter for this matter as well. You just need to scan your system with it and all the threats will be gone.
Delete Www-mysearch.com
Windows XP
Open the Start menu and click Control Panel.
Click Add or Remove Programs.
Select the undesirable software and click Remove.
Windows 7 and Vista
Open the Start menu.
Click Control Panel.
Click Uninstall a program.
Find and right-click on the undesirable software.
Click Uninstall.
Windows 8/8.1/10
Launch RUN.
Enter Control Panel in the box and click OK.
Click Uninstall a program.
Select the undesirable software.
Click Uninstall.
Internet Explorer
Open your browser.
Tap Alt+T.
Select Internet Options.
Click on the Advanced tab and click Reset.
Check the Delete personal settings box.
Click the Reset button.
Mozilla Firefox
Open your browser.
Tap Ctrl+Shift+A.
Click Extensions.
Select the extension and then click the remove button
Google Chrome
Open your browser and tap Alt+F.
Select Settings and scroll down.
Click Show advanced settings.
Click Reset settings.
Click Reset.
In non-techie terms:
It is advisable to scan the system with a trustworthy automatic scanner even though you have managed to remove Www-mysearch.com manually. The reason is simple – there might be other undesirable programs installed on your PC. The quickest way to check the system's condition is to scan PC with a reputable diagnostic scanner.