Do you know what WowCoupon is?
Officially WowCoupon is represented at wowcouponapp.info as a browser extension which is supposed to get deals from your favorite shopping sites. Of course, the website only serves the promotional purpose because it does not present an active installer. In fact, the website is likely to have been set up only to calm you down when you discover the suspicious plugin installed on the browsers. We advise that you delete WowCoupon if it has been installed without your permission or if you have accepted its installation yourself. Malware researchers warn that the program could be installed alongside malicious applications, and if they exist, you should delete them without further delay.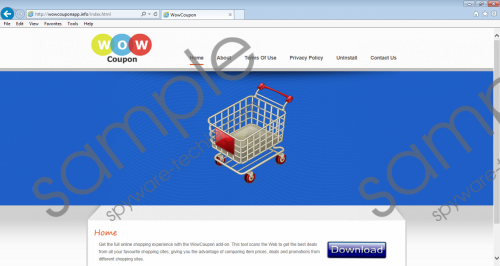 WowCoupon screenshot
Scroll down for full removal instructions
WowCoupon has many different names, including WowCouePon, WiowiCoupon and WoWCOOupono. The different name versions are meant to ensure that computer users have more troubles with the removal. For example, if existing malware removal software is not up-to-date with different titles, it could fail to identify WowCoupon as a threat. This clandestine trick has been used to aggravate the removal of ShopNDrop, DealsFactor, and similar advertisement-supported programs. It is believed that these apps come from the same family because they are created using the justplugit engine and they are distributed using the bundled installers by InstallRex, Amonetize and Vittalia. Do not trust these installers at any point because they could be used to infiltrate malware you will need to delete.
We suggest using automatic WowCoupon removal software because it will delete all adware components reliably. We list the extension as an advertisement-supported program because it can display deals, advertisements, discounts, and other suggestions. Unfortunately, it has been proven that not all offers represented by WowCoupon are authentic and trustworthy. In fact, some of them could be used to scam you further. If you choose to delete WowCoupon, you have to make sure that you do not leave any adware components behind; otherwise, the misleading offers may keep showing up.
Delete WowCoupon from the PC
Delete from Windows XP:
Click the Start icon on the Taskbar and open the Control Panel.
Double-click Add or Remove Programs.
Select the unwanted program and choose to Remove it.
Delete Windows Vista and Windows 7:
Open the Start menu by clicking the Windows icon on the Taskbar.
Now open the Control Panel and select Uninstall a program.
Right-click the undesirable program and choose Uninstall to remove it.
Delete from Windows 8:
Right-click on the Metro UI screen to open a pane and choose All apps.
Open the Control Panel and move to Uninstall a program.
Right-click and Uninstall the application you have chosen to remove.
In non-techie terms:
WowCoupon is a program we recommend having removed. The instructions presented above can help you uninstall the program; however, they cannot ensure that the removal will be completed successfully. We suggest installing security software which will ensure that the suspicious program is deleted automatically. All in all, it is most important that you delete the program because it may display unreliable advertisements and it can endanger your own virtual security. If you face any struggles with WowCoupon removal, we ask you to leave a comment. We will help you as soon as possible.