Do you know what WorldSport New Tab is?
WorldSport New Tab is a browser extension that works on the Google Chrome web browser. This application is supposed to help you access the latest sports news with one click of your mouse. Nevertheless, we are forced to categorize this new tab as a potentially unwanted program because it is closely associated with adware programs. Therefore, it would be for the best to remove WorldSport New Tab from your system right now, especially if you do not remember installing this program in the first place.
This application treads on a thin line between a potentially unwanted program and a computer security threat. Perhaps a lot of that depends on the method of distribution. WorldSport New Tab may arrive at your system in several ways, but it NEVER enters your computer behind your back. Whether you are aware of that or not, you are always the one who initiates the WorldSport New Tab installation. For example, if you download the app from lp.inmind-wsports.com, you most definitely know that you installed this program yourself. But perhaps you are not aware of all the implications of having this program on your computer.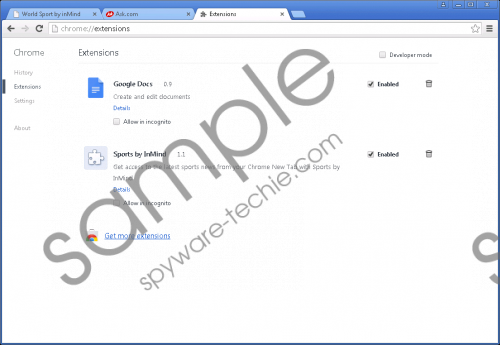 WorldSport New Tab screenshot
Scroll down for full removal instructions
What's more, WorldSport New Tab might also come bundled with other freeware applications. If that is the case, then users probably miss the moment this app enters their systems. They are too preoccupied with this one program they were planning to get, and they do not notice that additional apps are set up as well. The freeware download might also be initiated automatically if you open an advertisement that promotes the application. Usually, such pop-ups appear out of nowhere when you access adware-related websites. If you see that an unsolicited download is taking place, you should stop it immediately because you can never know what potential threats might end up being installed on your PC.
Luckily, this potentially unwanted program affects only one browser, but even so, you should not underestimate WorldSport New Tab. Once installed on the target system, this application will change your default homepage on Google Chrome to search.ask.com. Any user who has previously encountered a Mindspark application will recognize this search engine immediately. This just proves that WorldSport New Tab is closely associated with the Mindspark adware family, and that is nothing but bad news. It basically means that this new tab comes from the same pot as FindMeFreebies Toolbar and VideoConvert Toolbar.
When your homepage is changed to search.ask.com, you get exposed to a variety of third-party content. Most of that could hardly be reliable. Thus, it is necessary to avoid any potential threats by removing WorldSport New Tab today. You can terminate the application by deleting it from your extensions. It is not hard to get rid of it.
However, if you feel that there might be more unfamiliar and potentially dangerous programs on your computer, you should seriously consider scanning it with the SpyHunter free scanner. This way, you will soon get a list of all the potential threats, and you will be able to get rid of them automatically.
Should you need any assistance with freeware removal, you can always leave us a comment below this description. Also, investing in a computer security tool of your choice would greatly improve your system's stability.
How to Delete WorldSport New Tab
Open Google Chrome.
Press Alt+F simultaneously, and click More tools.
Go to Extensions and remove Sports by InMind.
Click Settings on the left.
Press the Manage search engines button under Search.
Set a new default search engine and remove Ask. Click Done.
In non-techie terms:
WorldSport New Tab is an extension that modifies the Google Chrome browser. It is built by the same developers who are responsible for creating multiple adware applications. This extension might be used to distribute potentially harmful information, so if you did not plan on having this extension on your computer, your best option right now would be removing WorldSport New Tab for good.