Do you know what WorldOfNotes Toolbar is?
Allegedly, WorldOfNotes Toolbar allows you to create free online notes and lists to stay organized, but we see this application for what it is, and our researchers have classified it as a potentially unwanted program (PUP) and recommend that you remove it because it does not provide its users with a useful service. This is due to the fact that its primary objective is to replace your browser's homepage address and expect you to use it for searching the web. The search results feature promotional links, and this program's developers get paid for featuring them. In short, WorldOfNotes Toolbar is all about generating ad revenue, so to not expect it to offer anything useful.
WorldOfNotes Toolbar was made and published by Mindspark Interactive Network, a company that has been making similar applications for a long time now. This newest release uses the same old formula of tricking people into believing that it is somehow useful while the reality is that its offered functions are just gimmicks or just links to third-party websites that provide certain services. This extension is, thus, similar to EasyDirectionsFinder Toolbar, NoteHomepage Toolbar, and DirectionsBuilder Toolbar.
This program comes as an extension for Google Chrome, Mozilla Firefox, and Microsoft Internet Explorer. It has a dedicated distribution website that features downloads to all three versions. The version for Chrome is also featured on the Chrome Web Store that indicates that there are more than 40,000 users who have it on Chrome. The number of users that use other browsers should be smaller as Chrome is the most popular web browser in the world. Still, for a useless application, WorldOfNotes Toolbar has many undeserved users. The large user base could also be explained by the fact that this extension is known to be distributed using bundled software installers. These installers can feature several applications that are offered to you when you install the main program. In some cases, however, the additional programs are installed automatically by default, so you have to uncheck its installation manually.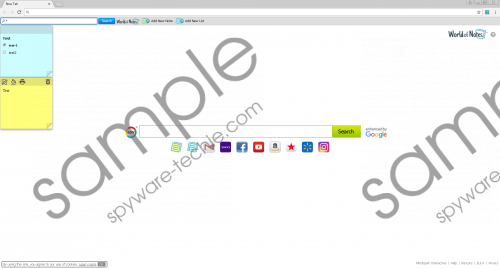 WorldOfNotes Toolbar screenshot
Scroll down for full removal instructions
If you get this extension on your PC, then it will change your browser's homepage address to Search.myway.com a search engine owned by Mindspark Interactive that uses Google's search results. However, Search.myway.com can modify the results to include promotional links that can be plentiful because the extension and search engine are dedicated to generating ad revenue. The promoted links can be presented to you as suggested searches that have been configured to promote websites that pay Mindspark Interactive to promote them. However, apart from getting poor quality search results, you can also subject your PC to malicious content because there is no way of knowing whether the links promoted by Search.myway.com are safe.
Since Search.myway.com provides search services, it collects information about you to present you with customized search results, and also ads. Mindspark can obtain personal information about you but only if you provide it voluntarily as a result of contacting them via email. So your email address, name, phone number, and everything else will be collected. This search engine will also collect anonymous information but will do that automatically without your consent. The information collected automatically includes your Internet Protocol address, Internet Service Provider domain name, browsing history, browser type, operating system type, search terms entered, and so on. This information is collected using web beacon, browser cookies, and other information technologies. It is also used for customizing the search results to present you with personalized ads to make more money.
So there you have it, no matter how useful and interesting WorldOfNotes Toolbar may look, the reality is that it offers nothing of value. Its only objective is to get its featured search engine on your browser which not something you want because it presents ad-supported search results of unreliable origin. Therefore, you might want to remove it, and if you do, then please follow the instructions presented below.
Removal Guide (for Internet Explorer)
Windows XP
Click Start and open Control Panel.
Select Add or Remove Programs.
Locate the bad toolbar and click Remove.
Windows 7/Vista
Click Start.
Select Control Panel.
Click Uninstall a program.
Find the program and click Uninstall.
Windows 8 and Windows 8.1
Open the Charm bar and click Settings.
Go to Control Panel and click Uninstall a program.
Locate the application and click Uninstall.
Windows 10
Right-click the Start menu.
Select Programs and Features.
Locate the toolbar and right-click it.
Click the Uninstall button.
How to remove WorldOfNotes Toolbar from your browser
Google Chrome
Simultaneously press Alt+F.
Open More tools.
Select Extensions.
Find and remove the bad toolbar.
Mozilla Firefox
Simultaneously press Ctrl+Shift+A.
Choose Extensions.
Locate the toolbar.
Click Remove.
In non-techie terms:
WorldOfNotes Toolbar is a useless browser extension dedicated to replacing your browser's homepage address with its featured shady search engine that provides users with ad-supported search results. The ads in the results are potentially dangerous as their origins are unknown. If you think this program is no good, then you are right and if you want to remove it, please see the guide above.