Do you know what World.jailloaf.eu is?
World.jailloaf.eu is a website whose goal is to make you subscribe to the MagicMob competition service. First of all, you can be taken to World.jailloaf.eu by pop-up advertisements displayed by various adware programs. It could be HD Total, Media Player Enhance, or any other browser add-on which is supported by advertising servers. World.jailloaf.eu offers you a chance to win a £500 voucher for Tesco, which has nothing to do this lottery.
When you answer the questions of the quiz at letsgo.magicmob.co.uk/template_22/step1.aspx, you are asked to provide your phone number. By revealing your phone number to MagicMob, you agree to be charged £4.50 every week until you cancel your subscription by sending stop to 60699. After subscribing to the service, you may receive some offers via phone.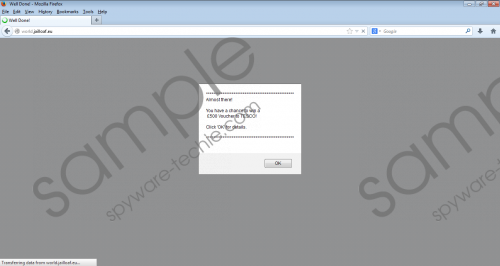 World.jailloaf.eu Remvoal Guide screenshot
Scroll down for full removal instructions
The odds are that it is barely possible to win the voucher because World.jailloaf.eu could be a simple scam. World.jailloaf.eu is a lottery website for UK-based residents; but the server promoting World.jailloaf.eu can also provide computer users with other lotteries available at all.samplesfamily.com, allbiz.geninfoservicez.eu, codec.mediacrow.eu, all.samplesfamily.com, and some other websites.
Besides World.jailloaf.eu ads, you may find different types of advertisements, including web banner or iframe advertisements, depending on the capabilities of the adware program that is present on your PC. The content of those advertisements may have nothing in common with what you are searching for on the Internet, and we recommend that you ignore all the advertisements that are displayed by the unwanted application.
If you are sure that you have not installed any browser add-on on purpose, bear in mind that there are many applications that are distributed by software installers. An adware program can be bundled with a media player, a browser extension or any other computer application. Hence, it is important to that you read the license agreement every time you launch the installer of a program.
Bear in mind that the adware program may monitor your browsing behavior and send it to third parties. Usually, adware programs record non-personally identifiable information, such as search terms and browsing behavior; however, there is always some risk that they will record some personally identifiable pieces of information and use the data acquired for targeted advertising.
In order to remove the program that displays World.jailloaf.eu advertisements, it is advisable to install a spyware removal tool. It is possible to remove adware programs manually; however, a reputable spyware removal tool can also safeguard the system against undesirable computer programs. We recommend using SpyHunter because this application can easily detect and remove adware programs, browser hijackers, rogue anti-spyware programs, and many other unreliable software programs.
How to get rid of World.jailloaf.eu pop-ups
Windows Vista and Windows 7
Click Start.
Click Control Panel.
Select Uninstall a program.
Remove the unwanted application.
Windows XP
Open the Start menu.
Click Control Panel.
Select Add or Remove Programs.
Uninstall the unwanted application.
Windows 8
Move the mouse to the lower-left corner of the screen.
Right-click and select Control Panel.
Click Uninstall a program and remove the adware program.
In non-techie terms:
World.jailloaf.eu is a website which invites computer users to answer simple questions in order to get a chance to win a £500 Tesco voucher. It is advisable to ignore such websites as World.jailloaf.eu because they are likely to be aimed at obtaining computer users' money. World.jailloaf.eu advertisements can be generated by an adware program. In order to find out what undesirable program is present on your PC, use the above-given removal guide or implement a spyware removal tool.