Do you know what Workno.ru is?
Often an unauthorized change within your web browser's default settings is caused by an outside application. In the majority of cases, browser hijacker is responsible for such intrusive activities. One program that fits this category perfectly is known as Workno.ru and should be avoided at all times as it will only cause major disruptions almost every single time you decide to browse the web. While such annoying functionality is its most prominent feature, you must also be informed about the fact that in some cases this browser hijacker could turn out to be the reason other suspicious and even potentially harmful applications might be able to enter your PC in an easy manner. In some cases, such software could simply come along with Workno.ru. To keep your PC safe and secure at all times and to regain the default settings of your web browser, make sure to execute a complete removal of this browser hijacker as soon as it is found up and running on your personal computer.
The first major indication that Workno.ru is up and fully running on your personal computer is a sudden change made to your web browser's default settings. It is important to highlight the fact that this browser hijacker is fully compatible with popular web browsers such as Mozilla Firefox, Google Chrome, and Internet Explorer. Such wide compatibility means that nearly every Internet user is at risk of getting their PC infected with this intrusive program. The most annoying thing about this hijacker is the fact that it will force you to use its newly appointed home page whether you like it not. This means that for as long as this intrusive application is fully functioning on your operating system, you will be forced to start every single web browsing session on a dubious third-party website. It goes without saying that this will change your overall online experience for the worse. Unfortunately, it is quite tricky to revert the changes made by this hijacker as you cannot simply delete it via Control Panel. To restore the default settings of your web browser, you need to follow the instructions that we present below; if you fail to remove Workno.ru from your computer, its modification will continue to bother you.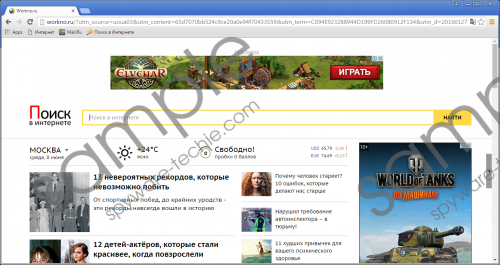 Workno.ru screenshot
Scroll down for full removal instructions
Unfortunately, there is something much more alarming about Workno.ru that meets the eye. Malware experts working at internal labs have found out that in some cases this browser hijacker could turn out to be responsible for the exposure of your operating system to devious web content. You might find yourself in such a situation if you happen to use the dubious search box presented to you within the newly set home page. It is important to highlight the fact that in some cases this suspicious search provider could turn out to present you with modified search results. This means that some of the results could prove to be embedded with redirect links, which could consequently lead you to suspicious third-party websites. In some cases you could be taken to sites running an arbitrary code execution exploit, meaning that just landing on a website with this exploit could be enough to get your computer infected with some other dubious program. It is also important to note that in some cases this browser hijacker could come along with other devious programs as it is often distributed via bundled installers. Thus, if you happen to already have Workno.ru on your computer, you should check your operating system for other questionable programs. It should be more than obvious why the removal of Workno.ru is essential. If you do not terminate this browser hijacker immediately, you will leave your operating system at constant risk of being infected.
The removal of Workno.ru must be executed with care. The instructions that we present below will allow you to delete everything associated with this hijacker only if you execute each step. If you miss or skip any of the steps, the removal could turn out to be incomplete. This means that traces of Workno.ru could still be active on your PC and could be used in dubious ways. For instance, this hijacker could be silently resorted by using those few traces. Therefore, you will need to run an in-depth analysis of your personal computer for potential leftovers associated with this intrusive program as soon as you are done with the manual removal. This way you will be sure that everything linked to Workno.ru has been successfully removed from your PC once and for all.
How to remove Workno.ru from your PC
Google Chrome
Start your web browser.
Click the Chrome Menu button and select Settings.
Click Show advanced settings and select Reset settings.
Click the Reset option to confirm your choice.
Mozilla Firefox
Launch your web browser.
Select the Menu button and click the question mark icon at the bottom.
Select Troubleshooting Information.
Click Refresh Firefox.
Click Refresh Firefox to confirm your choice.
Internet Explorer
Open your web browser.
Click the Menu button and select Internet Options.
Select the Advanced tab and click Reset.
Check Delete personal settings and then click the Reset button.
Click Close.
How to remove leftovers of Workno.ru
Right-click the short cut on your desktop called Вoйти в Интeрнет and select Delete.
Click the Windows button.
Type regedit into the search field.
Tap Enter on your keyboard.
Go to HKEY_CURRENT_USER\Software\Microsoft\Windows\CurrentVersion\Run.
Select and delete the registry value called jncymwqeqj.
In non-techie terms:
It should be obvious that running Workno.ru on your personal computer is a risk that you should not take. If you find manual removal a bit too complicated do not worry. Malware researchers at Spyware-Techie.com have crafted an alternative removal guide that will allow you to delete this hijacker automatically.