Do you know what WordWizard is?
Some people like to google every interesting new thing they have encountered on the Internet, and it seems like WordWizard offers them a perfect solution. Do you want to go to Wikipedia and search for something or someone that piqued your interest? Do you want to know how some specific term you have found on the Web is translated into other language, or what its synonyms are? WordWizard will unite in a single window everything relevant about the text you want to search for. But, you should know that the program spies on you using web beacons and cookies. It also makes your browsing experience annoying by showing commercial advertisements. From our side, we speak for the removal of this application.
The application should work in a very straightforward manner. Just highlight any text you find online, and WordWizard will show you a pop-up window with a lot of useful information. You will learn how this text is translated into many languages, and you will even receive Wikipedia and Bing results related to the text. What's more, this is the tool that saves you time and money as it is provided for free. But we have tested the application in our internal laboratory and have found that it is almost identical to SearchSnacks, PhraseFinder, and some other similar programs. All these programs are free because they are supported by third-party advertising. That is why you encounter coupons, in-text ads, and shopping comparisons each time you launch your Internet browser. As has been mentioned before, WordWizard collects information on your browsing habits. This allows the program to generate customized ads for you, thus increasing the possibility that you may click on them. The ads contain redirect links, and it is not beyond possibility that you may find yourself on a malicious website created solely for illicit goals. Please note that if your sensitive private information is stolen as a result of landing on such a webpage, you will have no one to blame. This is because you use the adware program at your own risk, as stated in its Terms of Service.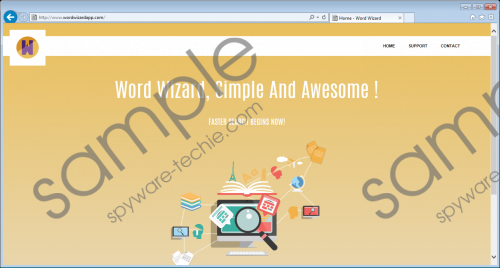 WordWizard screenshot
Scroll down for full removal instructions
What's more, WordWizard, as well as other similar programs, is usually distributed via the Amonetize installers. People receive these installers whey they are enticed by an offer to download updates to their video or media players or receive the completely new Flash player. Usually, these offers are placed on file sharing websites, but the download buttons people find on them are often bogus. By clicking on them, users allow unwanted applications to enter their systems. For example, if you have WordWizard installed, you should worry about the presence of the PicColor and PriceLess adware applications on your computer as well. Your utmost priority should be to scan your computer using a legitimate antimalware program. Probably there is a dangerous infection hiding somewhere on your system, and only a reliable tool like SpyHunter would be able to detect and remove it. Of course, such programs as WordWizard could be eliminated manually as well. If you would like to wipe out the adware program on your own, we have prepared a short guide that will assist you in this process.
How to remove the program
Windows XP
Access the Start menu.
Open Control Panel.
Launch Add or Remove Programs and eliminate WordWizard.
Windows 8 or Windows 8.1
Press the Windows key + Q.
Type Control Panel and click the icon.
Go to Uninstall a program and remove WordWizard.
Windows 7 or Windows Vista
Launch the Start menu and select Control Panel.
Access Uninstall a program.
Remove WordWizard.
Windows 10
Tap the Windows key + I to launch Settings.
Click on Control Panel.
Open Uninstall a program.
Delete WordWizard.
In non-techie terms:
We have prepared these instructions on how to remove WordWizard from your device, and we strongly suggest that you eliminate the application from your computer. It may act as promised and pretend to be a reliable tool, but you will surely be annoyed by the annoying advertisements it displays. Besides, any click on an ad generated by this program may lead to substantial damage to your system. So, get rid of the unwanted adware application soon.