Do you know what WordSurfer is?
WordSurfer is classified as an adware program, although the application itself promotes itself as a useful system tool that is supposed to speed up your web browsing. The reality is that WordSurfer enters your PC to generate financial profit for its developers, and it does not care whether it causes you any inconvenience. You should remove WordSurfer because the program is not useful, and it could easily cause particular security problems. Adware programs are too vulnerable to third-party exploitation, so by keeping one on your PC you inadvertently leave an opening that could be used by cyber criminals to attack you.
The program wants to make you think that it is a legitimate application, and we can appreciate its efforts through WordSurfer's official website. The page is located at wordsurferapp.com, but it does not have a direct download link. You can supposedly contact the program's developers through the Contact section and apply for the program's subscription. However, this process is definitely complicated, and it is very unlikely that users would go through it to get WordSurfer. Not to mention that all the complaints about this program we have seen say WordSurfer was installed on the affected computers without users' permission.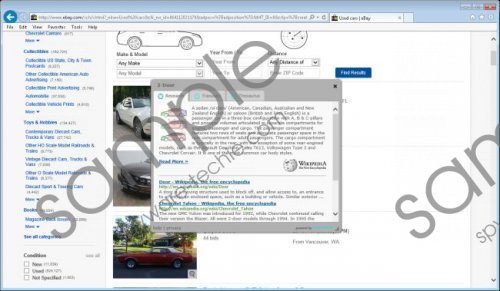 WordSurfer screenshot
Scroll down for full removal instructions
How is that possible? Simple, adware programs like WordSurfer are far more often distributed bundled with other software than individually. Thus, if you have recently downloaded a freeware app from a third-party source, WordSurfer was most probably included in the setup file. Third-party installers often contain additional programs, and users are usually informed about the oncoming modifications. The problem is that people tend to breeze through the installation, and they miss the chance to avoid installing WordSurfer on their computers. We are just lucky that this adware program is not a malicious infection, but since this buys you some time, please make sure you get rid of WordSurfer at once.
You will notice that something is not right when WordSurfer starts displaying a lot of pop-ups on your screen. The program's setup says that WordSurfer is "a free, ad-supported browser plugin." This means that the program relies on third-party advertising network for the ad content, and it does not review where the links embedded in the ads lead you. On top of that, the setup says that WordSurfer is a plugin, but the application does not add any extension or add-on to your browser. Instead, it affects all browsers through a system service called wsasvc.exe. Killing this process alone will not delete WordSurfer from your system.
Terminate the program by uninstalling it via Control Panel. WordSurfer is not safe enough to keep it on your PC. You have to realize that in the worst case scenario, this adware application may be exploited for malware distribution. What's more, you should get rid of all the programs WordSurfer has arrived with.
Normally, you can locate all the potentially unwanted programs in Control Panel, but if you do not trust yourself on this, then it is about time to acquire a licensed antispyware tool. A computer security application of your choice will scan your system and locate all the potential threats in no time. Do everything you can to avoid malicious computer infections.
How to Remove WordSurfer
Windows 8 & Windows 8.1
Slide the mouse cursor to the bottom right of the screen.
Click Settings on the Charm bar and go to Control Panel.
Open Uninstall a program and remove WordSurfer.
Windows Vista & Windows 7
Click the Start button and open Control Panel.
Go to Uninstall a program and remove WordSurfer.
Windows XP
Open the Start menu and select Control Panel.
Select Add or remove programs and uninstall WordSurfer.
In non-techie terms:
WordSurfer is one of those programs that do not seem to be dangerous at all, but they could prove to be extremely risky. Remove WordSurfer from your computer and take all the measures necessary to keep your system safe and clean. For any security tips or malware removal assistance, you can contact our team by leaving the comment below.