Do you know what WordProser is?
WordProser is an adware application that can spam you with annoying pop-up advertisements. Constant commercial pop-ups can slow down your browser and disrupt your web browsing process. WordProser does not try to cause you any harm directly, but adware programs are often exploited by malevolent third parties, so you should not take your chances. Remove WordProser right now and then scan your computer with a reliable antispyware tool in search for similar unwanted applications. Adware programs seldom come alone, so there is a high chance that you have more unwanted programs installed.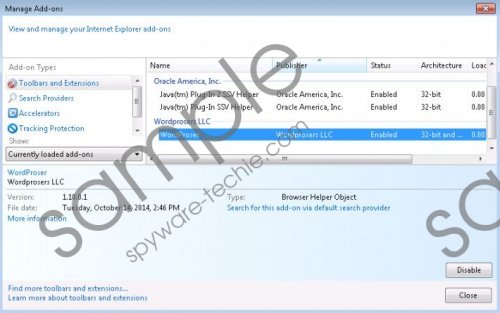 WordProser screenshot
Scroll down for full removal instructions
There are two main ways to download WordProser. First, you can download the application at its main website. The main website is located at wordproser.com. This webpage provides you with the most basic information on WordProser. The website looks sophisticated and user-friendly, so if users accidentally stumble across it when you browse the web, it is likely that some users might feel inclined to click the Download button. Nevertheless, the more common adware distribution method is bundled downloads. It means that WordProser arrives at a target computer together with a number of other questionable applications. The problem is that users often install various programs willingly, without even realizing that they allow potential threats to enter their systems.
As far as the origins are concerned, our research lab team says that WordProser is very similar to TermTutor, QuickKnowledge, Highlightly, etc. It is very common of such programs to promote some kind of service for free. WordProser is also promoted as a "free, ad-supported software utility." According to the information provided at the main website, WordProser collects and displays Wikipedia and Bing results in an in-page window. Technically, this application should improve your web search experience, but it is very likely that the extensions will only slow your browser.
WordProser is compatible with Mozilla Firefox and Internet Explorer web browsers, and upon the installation it adds a plug-in to any of the default browser. It would be a good thing if the program could really help you save time, but there is another side to this coin. As an adware application, WordProser displays commercial ads, deals and random pop-ups. Also, the program can highlight keywords in the websites you visit, and if you hover your mouse cursor above the underlined word, a pop-up advertisement will appear.
Constant exposure to third-party advertisements can lead to severe computer security issues, especially if you get redirected to unreliable websites. To protect your computer from harm, you should delete WordProser immediately. While you are at it, check for other potentially unwanted applications that might be currently running on your PC. Do take your system security seriously.
How to uninstall WordProser
Windows 8
Slide mouse cursor to the bottom right of the screen.
When Charm bar appears click Settings and go to Control panel.
Select Uninstall a program and remove WordProser.
Windows Vista & Windows 7
Click Start menu button and go to Control panel.
Open Uninstall a program and remove WordProser.
Windows XP
Open Start menu and go to Control Panel.
Navigate to Add or remove programs and uninstall WordProser.
In non-techie terms:
WordProser is a potentially unwanted program that displays annoying ads. They will not disappear unless you remove WordProser from the PC. Terminate all the unwanted programs and protect your computer against similar threats in the future.