Do you know what WordFly is?
WordFly is an annoying application that slithers into your computer without you even noticing it. Granted, we cannot call WordFly a computer infection because it is not a virus of any sort. However, if you care about your system's safety, you will remove WordFly at once. This program is known to collect information on what websites you visit, and later on it may leak this data to unreliable third-parties. Adware programs could be easily exploited by cyber criminals, so you have to prevent that by deleting all the potential threats right now.
Referring to the program's main website does not help in this case because wordflyapp.com does not provide any useful information on the application or how it gets distributed around the web. Needless to say, you cannot download the application from the main website because the download link simply does not exist. WordFly offers you to subscribe to its service so that this application would help you "read through all websites faster." But the question is whether WordFly can really live up to its promises because most of the adware programs out there cannot. In fact, you can get the idea of what you should expect from this application because WordFly is a direct clone of Swift Search.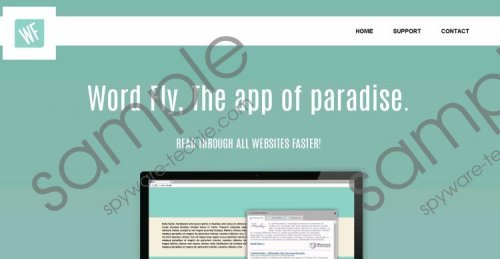 WordFly screenshot
Scroll down for full removal instructions
Neither of the applications has extremely useful functions. The main reason they enter your computers is money. But there is no reason to panic because WordFly cannot steal your money directly. It is not a Trojan, and the program does not log your key strokes. The point is that WordFly displays hyperlinks and third-party advertisements that cannot be trusted. The program makes money when you click a third-party link and increase traffic to a particular website, but this is where the WordFly's jurisdiction ends. The program cannot guarantee that you will be redirected to a safe website.
WordFly and all the other adware applications out there are not responsible for the third-party content security. In other words, the programs can be used like content promotion tools, disregarding whether the links they promote lead to safe websites. Hence, you need to remove WordFly from your system if you want to avoid potential security issues.
Fortunately, you can uninstall WordFly from your computer manually via Control Panel. However, do not forget that this application has entered your system with a bunch of other unwanted programs. You have to remove those programs as well. If you do not know how to locate these potential threats, scan your PC with the SpyHunter free scanner. When you have the list of unwanted apps generated, delete them all at once.
How to Remove WordFly
Windows 8 & Windows 8.1
Move the mouse cursor to the bottom right of your screen.
When the Charm bar appears, click Settings and go to Control Panel.
Open Uninstall a program and remove WordFly.
Windows Vista & Windows 7
Open the Start menu and go to Control Panel.
Click Uninstall a program and remove WordFly.
Windows XP
Click the Start button and open Control Panel.
Select Add or remove programs and uninstall WordFly.
In non-techie terms:
WordFly is a potential computer security threat that tracks your online browsing activity. This program has not been created to steal your personal data, but it could be used as a malware promotion tool by malevolent third-parties. Therefore, to avoid any undesirable consequences, you are strongly suggested to remove WordFly today.