Do you know what WizzWifiHotspot?
WizzWifiHotspot is a legitimate-looking application that should enable users share their Internet connection by transforming their computers into a Wi-Fi hotspot. The application seems to be really useful; however, users who want to share their Internet connection should not download and install it on their systems because specialists call it an advertising-supported application (adware). In other words, the application will not only act in a useful way, but might perform irritating activities too. If you have installed this program willingly but do not want to keep it installed anymore, you should delete it from your system as soon as possible. Actually, security specialists say that you should get rid of this program also if it has sneaked onto your computer without permission. There are hundreds of different applications that act in a very similar manner but are more trustworthy.
WizzWifiHotspot is another product of Wizzlabs, so we know exactly how this application is going to act. Our researchers have already noticed that WizzWifiHotspot will really help users to create a hotspot. In other words, it acts in a beneficial way. Unfortunately, this application is not a perfect one. It seems that its free version is going to display commercial advertisements on your screen. Pop-up windows offering to buy the full version of this program might appear on your screen from time to time as well. We have noticed that the full version of this program costs $9.99. It is up to you whether to pay money or not; however, you should be cautious because you will disclose personal information if you make a payment. Besides, nobody knows whether you will really not see other commercial advertisements on your screen ever again.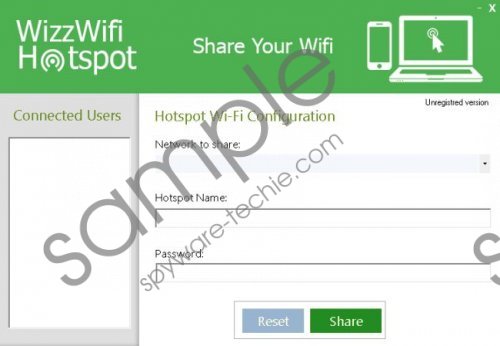 WizzWifiHotspot screenshot
Scroll down for full removal instructions
As you already know, the main drawback of WizzWifiHotspot is the collection of ads it provides users with. All these commercials are not only very annoying, but might also contain links leading to untrustworthy websites that belong to third parties. WizzWifiHotspot informs users that it has "no responsibility or liability for the content and activities of these linked sites." Unfortunately, this means that you might end up on the website full of malicious software. We are sure that you do not want to infect your system with malware, so we suggest ignoring all the advertisements you see on your screen or the websites you visit. Of course, this is not the only reason you have to get rid of this adware. Specialists are 99% sure that this ad-supported program might also gather information about users' activities in order to provide them with ads. Details about your browsing behavior might tell much about you too, so the best would be to erase WizzWifiHotspot if you do not want to reveal what you do on the web.
We cannot call WizzWifiHotspot a trustworthy application also because it is usually spread in software bundles together with other applications. Not all the applications this adware travels with are trustworthy, so it would be wise to scan the system to check its condition. Use a trustworthy tool to scan the system. Has your tool already detected unreliable software? If so, you need to get rid of all the existing infections ASAP. Unfortunately, nobody can guarantee that you will not encounter adware again because they are very sneaky; however, you should still install a reputable antimalware tool on your system and keep it there all the time. We highly recommend that you stay away from untrustworthy third-party web pages too because unreliable software is usually available on such sites and might sneak onto the computer in software bundles.
Even though WizzWifiHotspot is a program that works quite well, it is not advisable to keep it installed because the sponsored content it is going to show for users might be dangerous. Fortunately, WizzWifiHotspot has an uninstaller in Control Panel, which means it will be quite easy to get rid of it manually. In case something goes wrong and you cannot remove this program yourself, scan your system with an automatic malware remover, e.g. SpyHunter. It will make all the threats disappear.
Delete WizzWifiHotspot
Windows XP
Click the Start button.
Select Control Panel.
Click Add or Remove Programs.
Select the unreliable application and click Remove.
Windows 7 and Vista
Open the Start menu.
Click Control Panel.
Click Uninstall a program.
Right-click on WizzWifiHotspot and click Uninstall.
Windows 8/8.1/10
Tap the Windows key + R simultaneously.
Enter Control Panel in the box and tap Enter.
Click Uninstall a program.
Select the unreliable piece of software.
Uninstall it.
In non-techie terms:
Remember, our manual removal instructions will help you to remove only WizzWifiHotspot. In other words, it is very likely that you will leave other threats installed on the system if you do not do anything else. These threats might quickly cause harm to your PC and download other malicious applications. You need to make your system 100% clean if you do not want this to happen.