Do you know what WiryJMPer Dropper is?
WiryJMPer Dropper is a Trojan that pretends to be a wallet application used to store particular cryptocurrency known as ABBC Coin. To do so, the malicious application opens a window that resembles the ABBC Coin wallet. It is enough to distract a user and gain time for the Trojan to carry out its primary task, which is to drop a threat called Netwire on a victim's device. Netwire is a RAT, Remote Access Trojan that might be able to steal sensitive information like passwords. To find out more about these Trojans, we invite you to read the rest of this report. Slightly below the main text, you can find our removal guide that shows how to delete WiryJMPer Dropper manually. However, it might be best to use a reputable antimalware tool since it could erase not only this malicious application but also the RAT infection it could drop on your system.
Many Trojans slip in when users open unreliable data downloaded from the Internet. It means WiryJMPer Dropper could be dropped with unreliable email attachments, software installers, or other files downloaded from sources that are not trustworthy. Thus, to keep away from such threats, our computer security specialists advise not to open data or links obtained from questionable sources. If you have even the slightest suspicion, you should either refrain from launching data or scan it with a legitimate antimalware tool first. How to determine if your received content could be malicious. Files that turn out to be harmful often come from unknown senders or unreliable websites. Also, in case of malicious Spam emails, you can sometimes feel an exaggerated sense of urgency, for example, the email may claim you need to open a file or a link immediately to protect your banking account, due to some trouble with your order, and so on. We recommend being extra cautious with such emails and check if the sender's email address was not forged.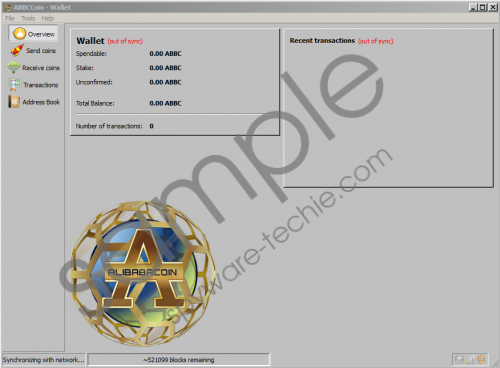 WiryJMPer Dropper screenshot
Scroll down for full removal instructions
WiryJMPer Dropper should drop files in the %APPDATA% and %APPDATA%\Microsoft\Windows\Start Menu\Programs\Startup directories upon its installation. Then the malware should open a window named "WinBin2Iso 3.16," which should be unresponsive. Soon after, the Trojan ought to launch another window. This window should look like ABBC Coin wallet. Since the malicious application places its launcher in Startup, this window might be opened upon each system restart. All of this activity is meant to distract victims so they would not realize what is going on. As said at the beginning of this article, it was discovered that WiryJMPer Dropper installs a RAT infection called Netwire. While it works silently in the background, the Trojan can record victims' keystrokes to gather passwords, conversations, banking information, and other valuable data that a user could type with his keyboard. All collected information could be used to scam victims, gain access to their accounts, or sell it on the dark web.
All things considered, it is best to erase WiryJMPer Dropper as fast as possible. Also, our computer security specialists recommend scanning infected devices to find out if the threat dropped Netwire on them. Thus, it would probably be easiest to acquire a reputable antimalware tool, scan the system with it, and then eliminate WiryJMPer Dropper and Netwire by pressing the given deletion button. For users who still wish to deal with the Trojan manually, we could offer our removal guide available below.
Eliminate WiryJMPer Dropper
Press Ctrl+Alt+Delete.
Pick Task Manager and check the Processes tab.
Locate a process belonging to the malware.
Choose the process and click End Task.
Exit Task Manager.
Click Windows Key+E.
Navigate to the suggested paths:
%TEMP%
%USERPROFILE%Desktop
%USERPROFILE%Downloads
Find a file opened when the device got infected, right-click the malicious file, and select Delete.
Go to: %APPDATA%
Find a file called abbcdriver.exe, right-click it and select Delete.
Navigate to: %APPDATA%\Microsoft\Windows\Start Menu\Programs\Startup
Look for a file called abbcdriver.lnk, right-click it and select Delete.
Exit File Explorer.
Empty Recycle bin.
Restart the computer.
In non-techie terms:
WiryJMPer Dropper is a malicious application that has a single task to deliver you more malware. To be more precise, the threat can drop a RAT infection called Netwire, which is very dangerous since it has keylogging qualities. It means, the Trojan could record user's keystrokes and so collect information, such as login credentials, chat messages, search keywords, and so on. Thus, if you find WiryJMPer Dropper on your system, we highly recommend checking if it dropped Netwire on your computer. The best way to eliminate both of these malicious applications is to scan your computer with a reputable antimalware tool, wait for results, and click its displayed deletion button. As for manual removal, we can offer steps available above this paragraph that show how to delete WiryJMPer Dropper. Of course, we do not recommend using them if you have no experience with such malware.